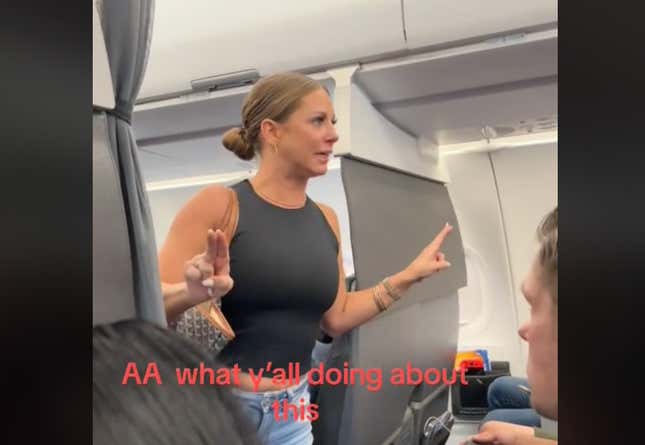 Listen, you will have to physically start an altercation for me to risk being placed on the no-fly list. However, an airplane Karen may not have considered that as she cussed and fussed her way up and down the aisle, according to The New York Post. The TikTok of the incident went viral.

Odell Beckham Jr. & How Misogyny Harms Black Men
On a flight waiting to depart from Dallas-Fort Worth International Airport, a white woman was caught having an explosive tantrum in a video captioned "drunk on a plane." It's unclear who the woman is or whether she indeed drank beyond her tolerance. But her erratic rant appeared quite paranoid.
"I'm getting the fuck off and there's a reason why I'm getting the fuck off and everyone can either believe it or they can not believe it," she whined in a Minnie Mouse-pitched voice. "I don't give two fucks but I'm telling you right now, that motherfucker back there is not real!"
On queue, everyone seated on the plane cracked their neck to see what the hell she was talking about and turned their head back to her after finding nothing related to her rant.
Watch the whole thing here:

According to some passengers who testified to what happened via social media, the meltdown stemmed from her misplacing her AirPods and accusing the Black passenger next to her of stealing them. None of the witnesses recall her being apprehended by airport security but do recall her making threats that they were all going to die which resulted in a de-boarding and three-hour delay. Who's "not real?" Chile, we still don't know but one lady claims it was the flight attendant who was trying to settle the AirPod dispute.
In a similar situation just a few weeks ago, another "visibly intoxicated" airline passenger flying Spirit went viral for a tirade as well. The only difference between her and the Karen is that she was a Black woman. However, the Black woman's tantrum resulted in her being physically removed from the plane by three airport policemen, per Insider. There's no telling if this Karen would have received the same treatment.
Read more from Insider:
The Protection from Abusive Passengers Act, which proposes a no-fly list specific to passengers who assault, threaten, or intimidate cabin crew, has garnered traction among flight staff and passengers alike. Others are opposed to the no-fly list, some noting that it unfairly targets people of color. "If Congress wants to further reduce air-rage incidents on aircraft, it should look at forcing the airlines to make flying a less miserable experience," said Jay Stanley, a spokesman for the American Civil Liberties Union, per AP News.
Both of these ladies had no business behaving like oversized toddlers in the confined space of an aircraft. Though, it's all too typical to throw all the "threatening" and "aggressive" labels at a Black woman who can end up facing greater consequences than her white counterpart, who is otherwise patiently scooted off the plane.