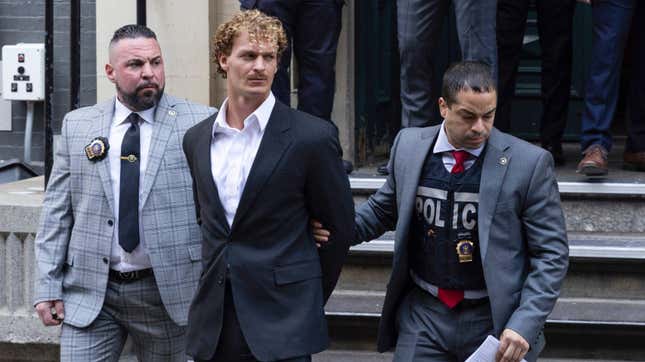 Daniel Penny, the man who choked Jordan Neely to death on May 1 on a New York City subway, claims that race wasn't a factor in his actions. On May 12, Penny was arraigned and criminally charged in a Manhattan court. He is facing a felony charge of second-degree manslaughter and could receive up to 15 years in prison. Penny is currently free on $100,000 bail.
Neely, a homeless man who had a history of mental illness, cried out for food and shelter shortly before Penny approached him from behind. Penny placed him in a chokehold for minutes and Neely was pronounced dead shortly after.
On Saturday, in an interview with the New York Post, Penny—who was described as "both soft-spoken and stoic about being at the center of a political and racial firestorm" in the article—claims "this had nothing to do with race" and that he "judge[s] a person based on their character." Penny also declares that he's "not a white supremacist."
Penny continued: "I mean, it's, it's a little bit comical. Everybody who's ever met me can tell you, I love all people, I love all cultures. You can tell by my past and all my travels and adventures around the world. I was actually planning a road trip through Africa before this happened."
He also refuted claims that he's a vigilante. "I'm a normal guy," Penny told the publication. He added that Neely's behavior was unlike "anything I'd experienced before" and that "New York transit system is the best in the world and I've been all over the world."
The article is a disgusting attempt to humanize Penny because he's white. The fact that he killed Neely bolsters the message of how the right views Black folks: disposable. Sadly, this is just the beginning of a redemption arc Penny doesn't deserve to have.