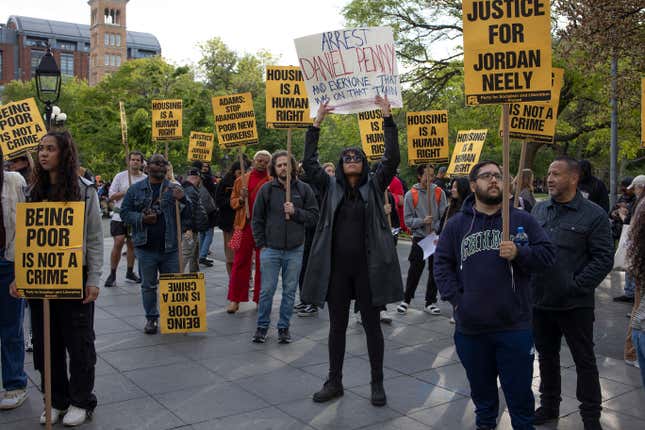 Jordan Neely's family aren't happy with the charges brought against ex-marine Daniel Penny. The family questioned why Penny, who choked Neely to death on a New York subway car last week, wasn't charged with a homicide. Penny was arraigned in court on Friday on second-degree manslaughter charges. He was released pending a trial, but if he's convicted, he could face up to 15 years in prison.
Terry Crews Talks AGT, Hidden Talents, & Falling For A White Chick
Despite the chance that Penny could spend years in prison, Neely's family argues that manslaughter is far too lenient. "Is that enough for someone who choked somebody out on the train and took their life?" asked attorney Lennon Edwards, one of the attorneys representing the family, according to NBC News.
Edwards stressed that Penny "intentionally" chose a method of restraint (chokehold) that cut off airflow. "That's a choice that he made, and he did it intentionally. So we believe that the conviction should be for murder because that's intentional," said Edwards. Neely, who was in distress, was unarmed, and witnesses said he didn't hurt anyone.
Penny's attorneys have maintained that he acted in the defense of other passengers and that this was not intentional. But the use of the chokehold combined with his experience as a former marine makes that excuse questionable to some legal experts.
The Root spoke to former prosecutor Paul Henderson about Penny's potential defense strategy ahead of the charges dropping;
It would be challenging for an ex-marine who is presumably trained in lethal force to argue that he had no idea what he was doing, adds Henderson. "Trying to say that this was an accident seems less valid when we're talking about someone who is trained to kill someone, presumably successfully," he says.

The law also specifies that the use of force has to be proportionate and reasonable in order for it to be self-defense, says Henderson. And regardless of whether Penny viewed Neely as erratic, he was unarmed, and no witnesses have claimed he attacked anyone.
Manhattan District Attorney Alvin Bragg has not explained how his office decided on manslaughter. However, he did release a statement about the charges.
"After an evaluation of the available facts and evidence, the Manhattan D.A.'s Office determined there was probable cause to arrest Daniel Penny and arraign him on felony charges," District Attorney Alvin Bragg said in a statement obtained by NPR. "Jordan Neely should still be alive today, and my thoughts continue to be with his family and loved ones as they mourn his loss during this extremely painful time."