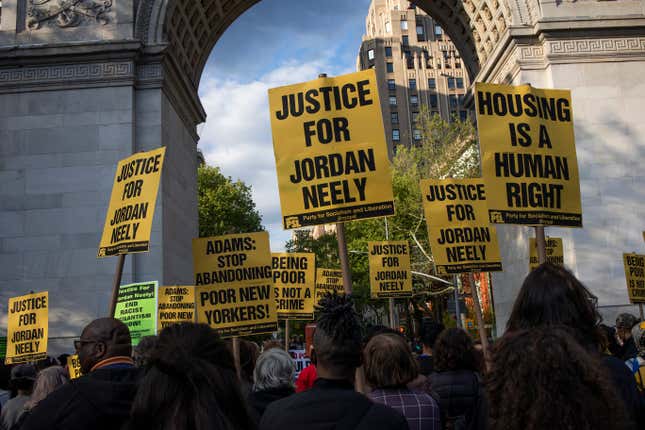 Daniel Penny's attorneys have argued that the white ex-marine "never intended to harm" Jordan Neely, a 30-year-old Black unhoused man, who Penny choked to death on a New York subway car. The question now is whether a court will buy that argument.
Here's How Medicaid Expansion Can Play A Role In Black Maternal Healthcare
Penny was charged with second-degree manslaughter on Friday and is facing up to 15 years in prison if he's convicted. The Root spoke to Paul Henderson, a former San Francisco Prosecutor, about the case. Henderson pointed out that New York's self-defense laws could make it difficult for Penny to win on self-defense, especially because there is no right to "stand your ground."
"In New York, no lethal force can be used at all if there's an opportunity to retreat," says Henderson. "The very nature of how the lethal force was used raises the question as to whether or not there was an opportunity and an obligation to retreat. Because you choke someone out, presumably, they passed out before they died because of the lack of oxygen. And in those moments where someone was passed out and you continued to exert a force. How is the law going to deal with that."
It would be challenging for an ex-marine who is presumably trained in lethal force to argue that he had no idea what he was doing, adds Henderson. "Trying to say that this was an accident seems less valid when we're talking about someone who is trained to kill someone, presumably successfully," he says.
The law also specifies that the use of force has to be proportionate and reasonable in order for it to be self-defense, says Henderson. And regardless of whether Penny viewed Neely as erratic, he was unarmed, and no witnesses have claimed he attacked anyone.
However, race is a complicating factor in this case, says Henderson. Research has shown that defendants who kill Black victims generally receive more lenient sentences than defendants who kill white victims. "When the use of force is being evaluated, and the aggressor is not a person of color, there is broader discretion than when a victim is a person of color," says Henderson.