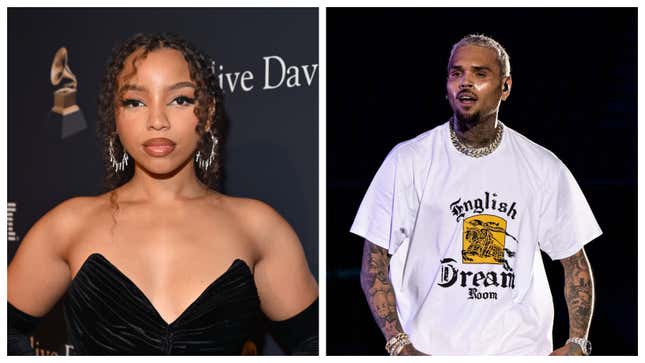 If you're like me, you have been waiting for the day that one of the Bailey sisters releases a solo album. Chloe Bailey announced that her long-awaited debut, In Pieces, will be released in March 2023.

Producer Will Packer Compares Chloe Bailey to Beyoncé | Securing the Bag: Part 5
On February 16th, however, she might have ruined some of the excitement after posting that a single called "How Does It Feel" with Chris Brown is available for pre-save. While there are unfortunately die-hard Breezy stans in her comments salivating for the singles, others are devastated with disappointment. Chloe, why did you choose this man?
Chris Brown was just in the hot seat during Grammy Week 2023 for using his Instagram Stories as his space to vent about not winning the Grammy for Best R&B Album, and insulting rightful winner Robert Glasper. Brown posted screenshots of Glasper's Google search results with a written caption saying, "Bro who da f*ck is this"?"
The public quickly let him know that degrading another artist out of anger was not the way to go. Brown scrambled back to his social media days later with a horrible apology to Glasper.
Not only is Chris Brown a sore loser, but he's also had an ongoing struggle to produce positivity in his personal life. Brown has been the center of way too many alleged violent actions against men and women throughout his career, including the infamous domestic violence incident with Rihanna in 2009, a brawl in a New York nightclub with Drake in 2012, and an alleged altercation with Frank Ocean in 2013. In 2017, a restraining order was filed against him by his ex-girlfriend Karrueche Tran for allegedly punching her and pushing her down the stairs. He has been arrested several times for allegedly threatening or beating women.
Chloe Bailey's solo music has been much about female empowerment and taking back one's agency. Wouldn't this collaboration negate those messages?
Chloe Bailey has been in the entertainment industry for most of her life. So one would think she would know better than to attach her name to someone who has a history of an explosive temper and is known for fostering fear amongst her peers in the industry. Her album sales likely would've been just fine without the Brown collaboration. So attempting to boost album sales or hoping for a chart-topping hit with him may not be the way to go. No amount of number-one hits, nostalgia from his past albums, or onstage backflips could cover up his behavior, Chloe: this is a miss in my book.