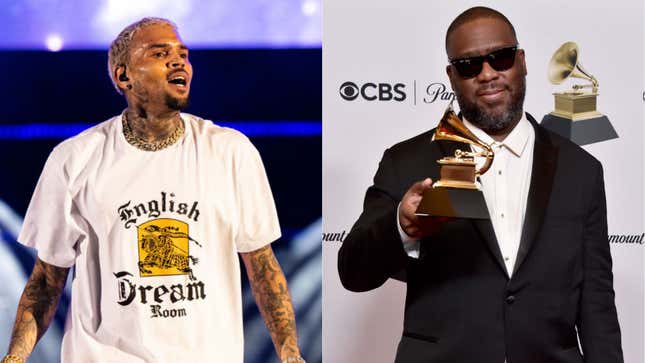 Updated as of 2/7/2023 at 9:13 a.m. ET

Following a wave of social media backlash, Chris Brown has apologized to Robert Glasper for lashing out after losing the Grammy for best R&B album to the talented and accomplished American pianist and producer.
After Glasper won for his 2022 album, Black Radio III, Brown put out his frustration on his Instagram story for all the world to see. Take a look at what he posted following his loss:
I understand the frustration, but outwardly attacking the artist you lost to is, well, pretty lame, especially when he is more than deserving.
Brown's half-assed apology, which he shared in a screenshot, read, "Congratulations my brother.. I would like to apologize if you took offense to my reaction at the Grammys.. you were not the intended target and I know I came off really rude and mean. After doing my research I actually think your amazing..."

He continued, "THE ORGANIZATION ISNT DOING US BLACK OUR DUE DILIGENCE. YOU AND I SHOULD never be in the same category.. two totally different vibes and genres. So from one black man to another.. CONGRATULATIONS."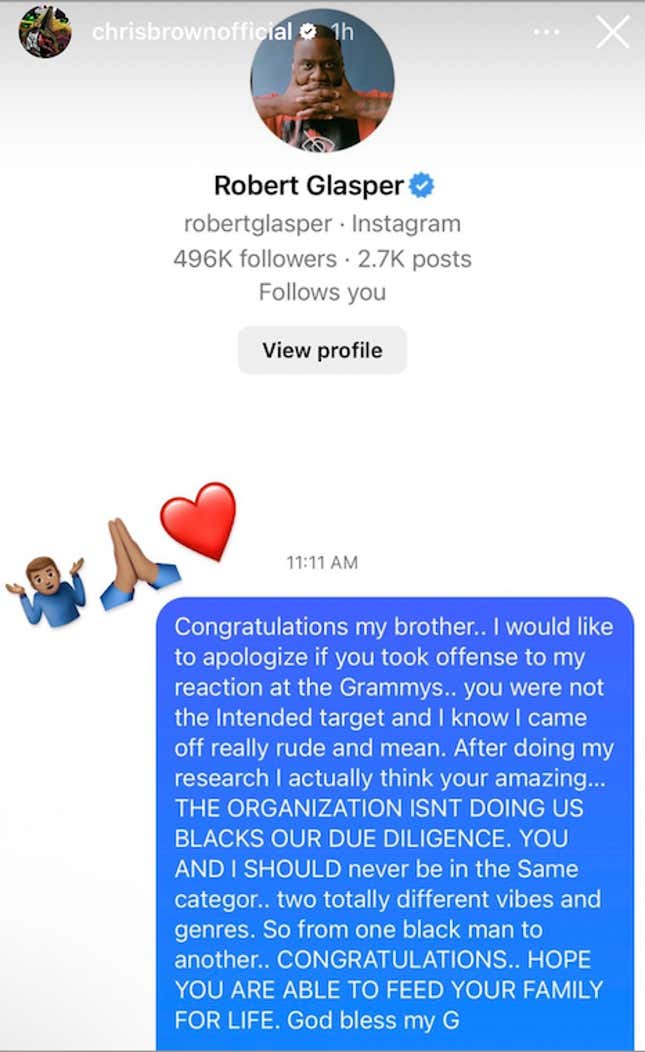 I'm normally not the one to judge another's sincerity, but trying to shift the anger you clearly had toward Glasper over to the Recording Academy after everyone called you out is pretty weak. You were clearly upset about Glasper's win—own up to it!
Although Brown claims to have done his "research" on Glasper, let me offer up a short lesson. Glasper is a respected and talented producer, songwriter, and pianist who has created acclaimed albums and worked with some of the best artists of this century.

His 2012 album, Black Radio, won Glasper the 2013 Grammy for best R&B album and since then, he has won four more. He has produced and written on albums for Talib Kweli, Big K.R.I.T., Q-Tip, Kendrick Lamar, Common, Denzel Curry, Mos Def, Lupe Fiasco, Jill Scott, Erykah Badu, and Anderson .paak just to name a few.
He's also worked heavily on arguably the best rap album of all time, To Pimp a Butterfly. His 2020 album, Dinner Party, which he collaborated on with Terrace Marti, 9th Wonder, and Kamasi Washington is still one of the best R&B albums I've heard in the past few years.
Out of his 11 nominations, he's taken home five Grammy awards. Out of Brown's 21 nominations, he's only won one. Correct me if I'm wrong, but five is more than one.
I suggest that if Brown wants to make better-sounding music, he might want to consider working with him. It might help him break away from the old and tired formula he's been churning out for the last decade.