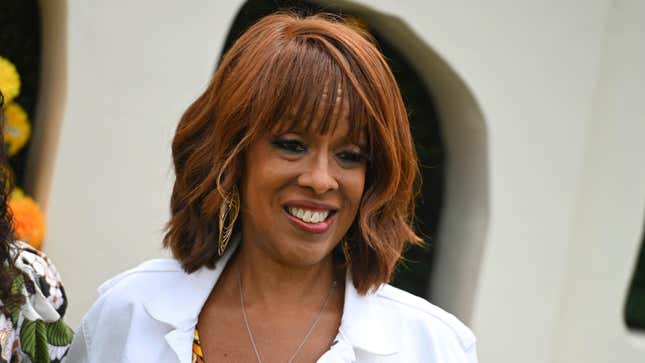 CBS Mornings' Gayle King noticed a certain co-host being absent on Monday's episode, which coincided with Juneteenth. Tony Dukoupil was sarcastically called out by the legendary media personality for having the day off, which is about Black folks finally being freed from slavery.
Gayle King, alongside Black anchors Nate Burleson and Vladimir Duthiers, mentioned on-air that they showed up to work on the federal holiday when Dukoupil—who is white—did not.
"Is it lost on anybody that the only white guy at the table is off today to celebrate Juneteenth, and we are still here," King remarked. "Glad to be here. I hope Tony is celebrating his Juneteenth holiday! Welcome to CBS Mornings!"
Burleson and Duthiers couldn't hold back their laughter as King simply stated what the hosts were thinking. Burleson jumped in and quickly remarked "Tony, we love you." King chimed in to add "We do." Dokoupil has co-anchored the morning show since 2019.
King has been at CBS Mornings since 2011 and Burleson joined in 2021. Juneteenth became a federal holiday after President Biden signed it into law in 2021. The Root has chronicled various aspects of Juneteenth all month, including why it's important, the way businesses have gotten it wrong and which Black entertainers deserve reparations.
Even the White House threw a Juneteenth party to remember last week. Antjuan Seawright wrote for The Root why it's important to consider Juneteenth an American holiday instead of just a Black one.
"Honest history matters—and Juneteenth matters because the struggle means something; because bigotry can't hide unless we let it; because whether you were born a slave or a planter's son, we're all Americans now...thenceforward and forever free," Seawright stated.
"But remember: freedom is also earned in every election. That's not just a Democratic message—it's the American message."