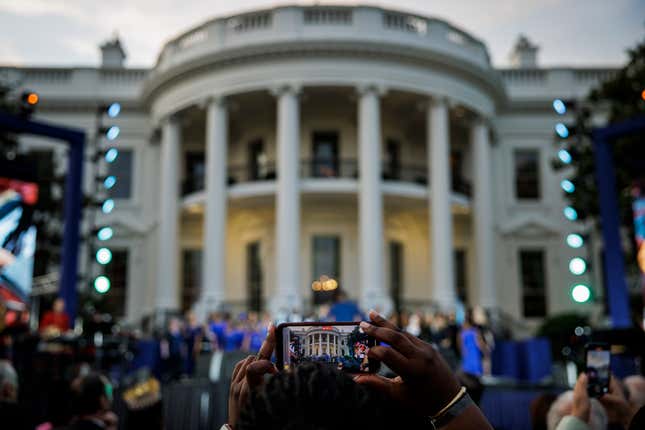 Black folks came out for a get-together at the Biden's House Tuesday evening to celebrate Juneteenth with hugs, high fives, history, great music (of course), and a parade of summer fashion dos and don'ts.

If You Take One Lesson From Juneteenth, Let It Be This One
Guests were greeted with a mini battle of the bands between Tennessee and Morgan State Universities.
"This is some Black stuff right here on the White House lawn," Method Man announced as Tennessee State played "Outstanding" by the Gap Band.
"Juneteenth means to me that a lot of people on the other side still gotta lot of work to do," The Power Book II: Ghost star told The Root. "And the fact that a lot of our people didn't know they were free, speaks volumes."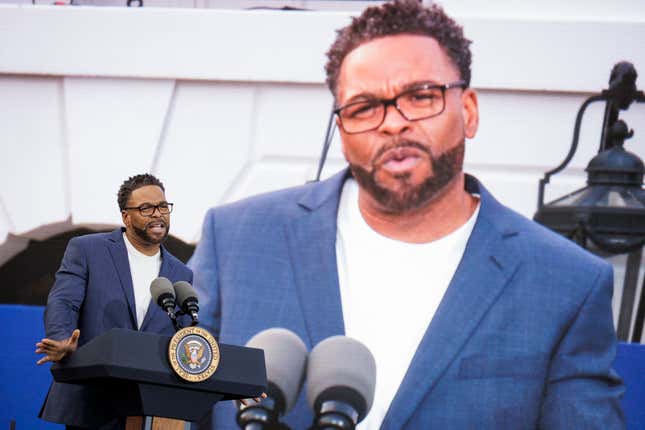 Guests also relished performers such as Ledisi and Jennifer Hudson as well as sightings on the lawn from Erika Alexander (Maxine on Living Single), an activist on issues such as missing women and fair wages who is behind documentaries Good Trouble on the late U.S. Rep. John Lewis and Reparations.

Vice President Kamala Harris opened the program noting that "Black history is American history," decrying challenges to suppress it and introducing the "grandmother of Juneteenth," Opal Lee, who fought for the federal holiday. After discussing the importance of Juneteenth, the 96-year-old retired teacher created a stir by warning everyone to do something about climate change, or "we're going to hell in a handbasket."

Other highlights on stage included Audra McDonald's soaring rendition of "Summertime," Ledisi's tribute to Tina Turner with Al Green's "Let's Stay Together," Jennifer Hudson's take on Sam Cooke's "A Change Is Gonna Come" finished off with a little of John Legend and Common's "Glory," the rapid-fire precision of Step Afrika! and some church from Broadway Inspirational Voices, whose "Precious Lord" drew "Amens" from members of the Fisk Jubilee Singers relaxing under a tree on the lawn after doing their thing on stage.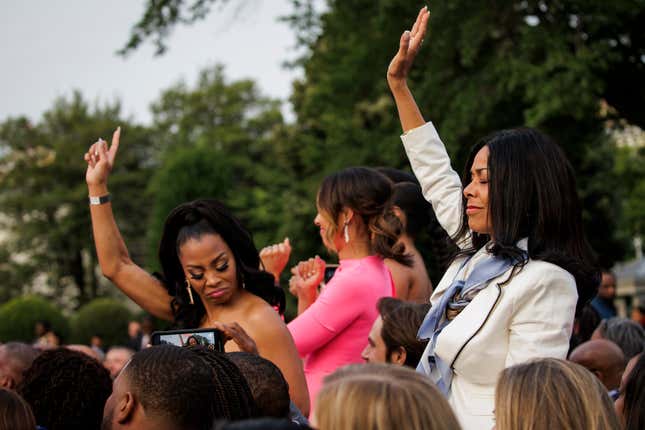 First Daughter Ashley Biden introduced her father, and the crowd rose to greet him. "Making Juneteenth a federal holiday wasn't just a symbolic gesture," President Biden said. "It was a statement of fact for this country to acknowledge the origin of — original sin of slavery."
"C'mon Preacher Joe," a man shouted when President Biden, who sometimes quotes lyrics from "I Don't Feel No Ways Tired" by James Cleveland, said he didn't think "the good Lord brought us this far to leave us behind."
After it was over, another man commented that if Biden has a barbecue next time, he just might get to stay in the White House.