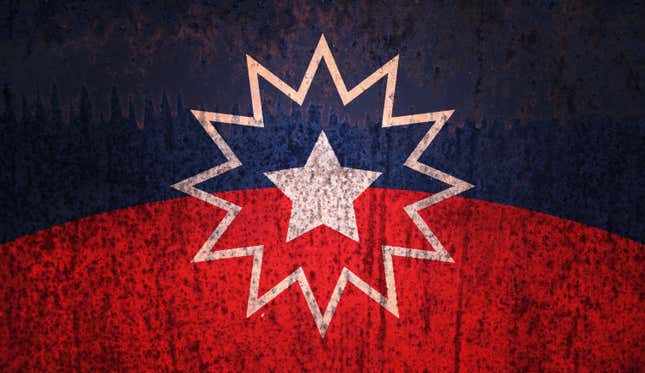 So, let's talk about that federal holiday some of you say is only symbolic and the only thing our Biden vote got us.

The Blackening Cast Has Some Thoughts About Reparations
Juneteenth is not just any holiday, it's an important one. In fact, it took nearly 156 years for our nation to celebrate the end of slavery as a national holiday, and states like South Carolina, Mississippi, Florida and 23 others still refuse to recognize it. Still, a Gallup poll found that in 2021, 62 percent of Americans reported knowing little to nothing about Juneteenth.
Can you imagine that? More than half the states in the United States still refuse to celebrate freedom and more than half of our fellow Americans simply know little to nothing about this historic holiday. Of course, I guess we shouldn't be surprised.
Sadly, when we talk about Juneteenth, we have to be reminded there are still plenty of folks in this country who are obsessed with whitewashing American history. They want to pretend that facts are up for debate and the truth isn't so true after all so they can wipe away generations of struggle minimizing our contributions—Black contributions—until they seem so small that they can be snatched away in one election.
So, this isn't just a symbolic holiday and it being a federal holiday is a big deal. Teaching about and celebrating Juneteenth is about recognizing truth and freedom in the face of resistance to that truth and our freedom. If we don't keep voting, if we don't make turnout a repeat offense, we could lose it…and much, much more.
The History of Juneteenth
Now, let's talk about Juneteenth. Let's talk about that day, June 19, 1865, when Union General Gordon Granger stood on Texas soil and read General Order No. 3 declaring, "The people of Texas are informed that, in accordance with a proclamation from the Executive of the United States, all slaves are free."
But that day had been a long time coming.
It all began on December 31, 1862, with Watch Night services all across the nation waiting for the stroke of midnight when the Emancipation Proclamation would take effect and "all persons held as slaves within any State or designated part of a State, the people whereof shall then be in rebellion against the United States, shall be then, thenceforward, and forever free."
When the moment finally came, people cheered, hymns were sung, and Union soldiers marched through southern towns and plantations reading those words from small copies of the proclamation printed for the occasion.
It was beautiful…but slavery endured.
Then, on January 31, 1865, Congress passed the 13th Amendment abolishing slavery for all time. Then, on April 9, 1865, Lee surrendered to Grant. Then, 17 days later, Johnston surrendered to Sherman. Still, slavery endured.
It endured all the way into Texas, the Confederacy's most remote corner, where the treason of secession remained defiant and more than 250,000 black men, women and children remained in chains.
A president had proclaimed, a law had passed, a war had been won and slavery was supposed to be over. But the folks down in Texas hadn't gotten the message. Then 2,000 Union soldiers marched into Galveston Bay to deliver the news.
To some, that may not seem like much. But in actuality, it meant the world because it meant bigotry could no longer hide—we wouldn't allow it. It meant years of violence, bloodshed and heartbreak had a purpose. It meant it didn't matter if you were born a rich planter's son or a slave in the field, we were all Americans now.
The Messaging of Juneteenth
That's where messaging matters. We'd fought a war and the forces of freedom had won. But the folks down in Texas hadn't gotten the message and the only reason they did—the only reason those 250,000 slaves ever tasted freedom—was because of those Union messengers. So effective and efficient messaging certainly mattered to them.
The truth is, those Confederates in Texas were happy that freedom's message hadn't traveled so far. They were hoping it never would just like the folks out there right now peddling this idea that Democrats don't have a message today and they're hoping you believe them. They're hoping because they know a lack of communication and effective messaging can keep people in bondage. It is no accident that a majority of Americans don't know much about Juneteenth today. This is also why teaching and the messaging of this holiday is fundamental.
What they don't see is that ours isn't just the Democratic message. It's the American message: that we are one people, that we are one America and that we are forever free.
The Lesson of Juneteenth
It's true: messaging matters and we need more messengers—fearless messengers dedicated to meeting people right where they are and speaking the truth because the truth matters. Honest history matters—and Juneteenth matters because the struggle means something; because bigotry can't hide unless we let it; because whether you were born a slave or a planter's son, we're all Americans now...thenceforward and forever free. But remember: freedom is also earned in every election.
That's not just a Democratic message—it's the American message.
Have a Happy Juneteenth.
Antjuan Seawright is a Democratic political strategist, CBS political contributor and CEO of Blueprint Strategy LLC.