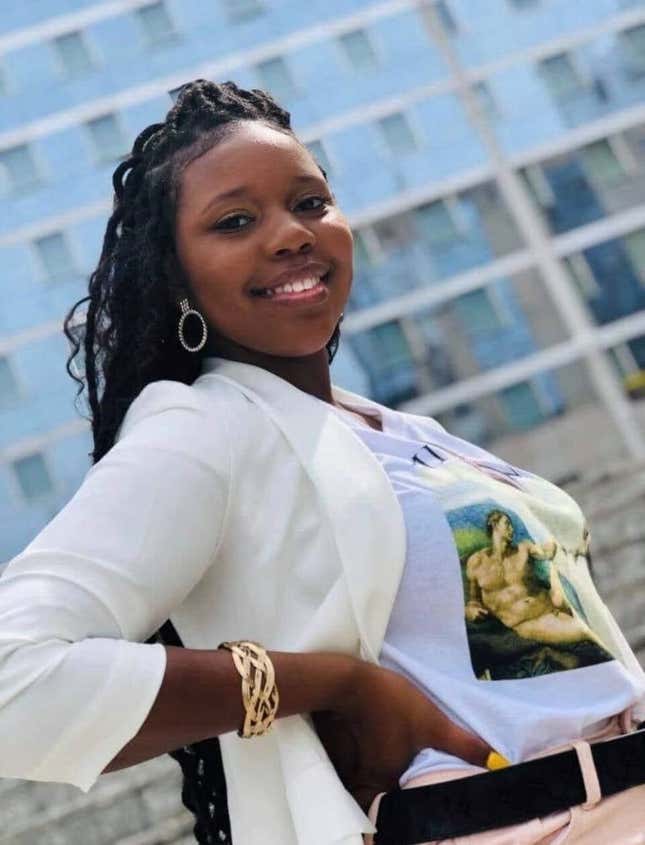 "Where is Carlee Russell?" took the internet by storm, leading to a whirlwind of rumors and theories surrounding her disappearance, and now the question has shifted: What happened to Carlee Russell?

Georgia Nurses Thought It Was Smart To Mock Patients on TikTok
The 25-year-old Alabama native was reported missing Thursday evening after claiming to see a toddler walking alone on the interstate and stopping to help, according to the police. The next day, police held press conferences, her parents pleaded to the media, and TikTokers– both Black and white influencers – spearheaded a search for Russell, citing the potential of traffickers and the plot of any true crime podcast. Then, an unexpected twist: News broke that she showed up on her family's doorstep late Saturday.
The details surrounding her disappearance and possible abduction have yet to be revealed. Nor, is it clear how she reappeared.
According to the New York Times, Nicholas Derzis, the chief of the Hoover Police Department, said he was unsure how she got there.
More from New York Times:
The woman, Carlee Russell, showed up at her family's front door on Saturday night, knocked and was greeted by her stunned relatives, said Nicholas Derzis, the police chief in Hoover, a suburb of Birmingham.

He said he was not sure how Ms. Russell got there, but nobody was with her when she arrived. She was taken to a hospital for evaluation.
Meanwhile, TikTokers rejoiced that Carlethia "Carlee" Russell had been found.
One user, @rogermontgomery, said "How many times do we hear stories like this? They don't always end well," he said. "Whatever happened, I feel like this situation brought a lot of conversations that needed to be had, and we should still continue these conversations."
A study called "Missing White Woman Syndrome: An Empirical Analysis of Race and Gender Disparities in Online News Coverage," found that Black people were vastly underrepresented in news coverage surrounding disappearances. Study after study has shown that nobody looks for Black women when we go missing, not police or the media.
The the fact that you couldn't scroll TikTok without seeing Carlee's name could have contributed to the national news attention she received.
Here's how the story unfolded:
On Thursday at around 9:34 p.m., the Hoover 911 Call Center received a call from a woman regarding a toddler who was wandering on the side of I-459 South. The caller, who was later identified as Russell, then called a family member in order to report the same story. Though the family member lost contact with Russell, the line remained open. When officers arrived at the scene, they found her vehicle and some of her belongings, including her wig and cell phone. However, there was no sign of Russell or of the toddler.
In an interview with CBS 42, Russell's parents Talitha and Carlos Russell claimed that they were certain their daughter's disappearance was an abduction. The details about the toddler, for example, seemed to validate their suspicions. They even warned Russell about the use of children as "decoys."
"We've actually told our daughter, 'Don't fall for those decoys'" Talitha Russell said, "... but she's a passionate person; she's a very caring person and she told the family member that she could not leave a little child that appeared to be three or 4-years-old just on the interstate."
Equipped with the knowledge that she was last seen in a black t-shirt, black pants and white Nike shoes, the Hoover Police Department urged anyone who might have information regarding the whereabouts of Russell to come forward.
This same call to action began to trend on Tiktok.
TikTok user Barbara J. Warren (@barbaraj.warren), for example, posted a short clip about the case, including a picture of Russell and the phone numbers of officers to contact, urging her followers to share all relevant information.
"We need to make sure this information is disseminated as far and wide as possible," Warren said.
TizzyEnt (@tizzyent), who shared a video regarding Russell's story to his page, posed the question, "[Where] is Carlee Russell?" to his followers and included a number of details about the case, including alleged witness claims that a man described as having a light complexion leaned into her car and possibly got into it.
"This is sad, terrifying and needs to be everywhere," he said. "...We need to find her."
A user called ophelia (@shoelover99) laid out perfectly maybe why the case got so much social media attention. After sharing Russell's story, she said social media is a powerful tool, which sould be put to good use in cases like these.
"There is enough people on this app and any other social media app that is all involved and intrigued with true crime situations," she said. "This is where you come into play."