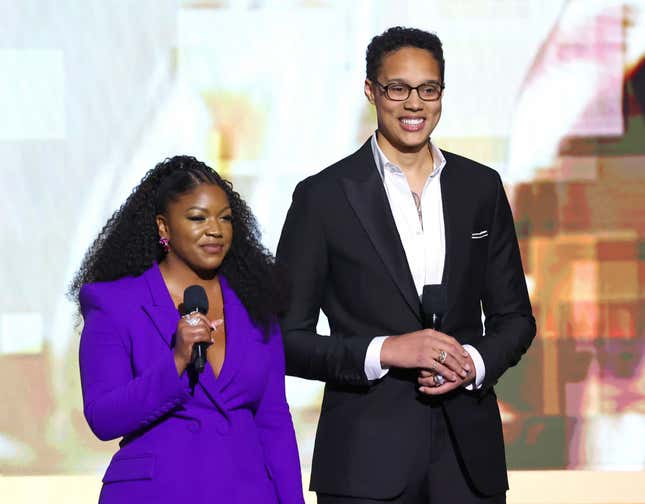 Ahead of her return to the WNBA, Phoenix Mercury center Brittney Griner has confirmed that she will tell the true story behind her wrongful detainment in Russia. According to The Associated Press, on Tuesday, the eight-time all-star announced that she is working on a memoir about her imprisonment. It is currently scheduled for release in spring 2024.

Herschel Walker Supporters Are Unfazed By His BS
In February 2022, Griner was stopped in a Moscow airport when the police said they found vape cartridges containing cannabis oil in her luggage. The WNBA champion was charged with drug smuggling and possession. After a short trial, the basketball star was found guilty and sentenced to nine years in prison. Just as she was beginning her sentence in a labor camp, in December 2022 the U.S. and Russia conducted a prisoner exchange, with Griner coming home, while convicted arms dealer Viktor Bout was released into Russian custody.
"That day (in February) was the beginning of an unfathomable period in my life which only now am I ready to share," Griner said in a statement released by Alfred A. Knopf.
When she was arrested, Griner was headed back to Russia to join UMMC Ekaterinburg, the professional team she played for there. Most top WNBA stars play overseas the rest of the year, as they don't earn much money competing in the United States.
"The primary reason I traveled back to Russia for work that day was because I wanted to make my wife, family, and teammates proud," she said. "After an incredibly challenging 10 months in detainment, I am grateful to have been rescued and to be home. Readers will hear my story and understand why I'm so thankful for the outpouring of support from people across the world."
The two-time Olympic gold medalist went on to say that she hopes "her book would raise awareness of other Americans detained overseas." In December 2022, the Baylor alum announced on Instagram that she planned to play during the upcoming season, writing, "I also want to make one thing very clear: I intend to play basketball for the WNBA's Phoenix Mercury this season, and in doing so, I look forward to being able to say 'thank you' to those of you who advocated, wrote, and posted for me in person soon."
In February, Griner re-signed with the Phoenix Mercury for a one-year deal. She will make her 2023 season debut on the road on Friday, May 19 against the Los Angeles Sparks.