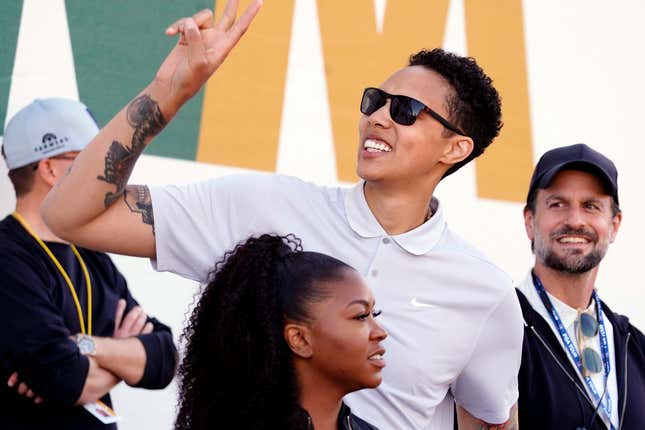 With Super Bowl LVII taking place outside of Phoenix in Glendale, Ariz., WNBA star Brittney Griner, and her wife, Cherelle, were among those who attended the game and festivities surrounding it. According to People, on Saturday, the Phoenix Mercury center and her wife were seen at the WM Phoenix Open golf event. As the couple enjoyed the tournament, Brittney flashed a peace sign to fans.
The 2023 Super Bowl's Top 5 Black Moments: From Historic Firsts To Rihanna's Baby Bump
On Sunday, the pair—clad in Philadelphia Eagles gear—were spotted in the stands at the big game. Patrick Mahomes led the Kansas City Chiefs to a 38-35 win over Philly, so it didn't quite go their way.

These were Brittney's second and third public appearances since she returned to the U.S. The eight-time WNBA all-star was wrongfully detained in Russia for nearly 11 months after she was charged and convicted of drug smuggling and possession. In February 2022, she was stopped at a Moscow airport when police said they found vape cartridges containing cannabis oil in her luggage. During her trial, the amount was revealed to be "0.252 grams and 0.45 grams." Thankfully, in December 2022, shortly after beginning her nine-year sentence, the United States was able to negotiate a prisoner swap, and Brittney was able to return home.
A week after the prisoner exchange, the two-time Olympic gold medalist posted an Instagram message confirming that she planned to play for the Mercury during the 2023 WNBA season.
"I also want to make one thing very clear: I intend to play basketball for the WNBA's Phoenix Mercury this season, and in doing so, I look forward to being able to say 'thank you' to those of you who advocated, wrote, and posted for me in person soon," she said.
Technically, BG is an unrestricted free agent who hasn't re-signed with the Mercury yet. But, she's made it pretty clear she plans to stay with the team. It appears that Phoenix is getting the rest of its lineup in order before making deals with BG and her longtime teammate Diana Taurasi. On Feb. 1, during ESPN's WNBA Free Agency special, Holly Rowe revealed what she's heard about the Baylor alum's prep for the 2023 season.
"Brittney Griner has been at the Phoenix Mercury facility…working out. She has got a slew of people there to help her, from physical therapists to trainers on the court there. I am told by sources that she looks fantastic," Rowe said. "They're saying that she is ramping up her training and that she is committed to playing in the WNBA."
The 2023 WNBA season kicks off Friday, May 19, with the Mercury starting its schedule on the road against the Los Angeles Sparks.