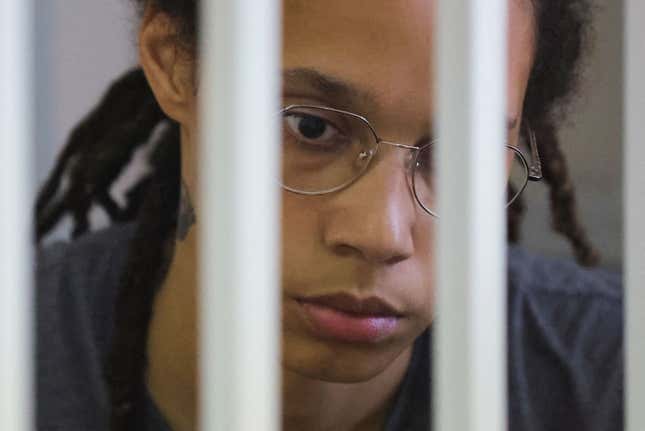 The Russian case against WNBA star Brittney Griner has come to an expected, yet sad, verdict, as she was found guilty on drug possession and smuggling. She was sentenced to nine years in prison.

Herschel Walker Supporters Are Unfazed By His BS
During Thursday's closing arguments, prosecutors asked for nine and a half years, while the two-time Olympic gold medalist pleaded for leniency and apologized to her Russian teammates, her family and the WNBA.
The WNBA champion has been wrongfully detained in Russia since Feb. 17, when police say they found vape cartridges containing cannabis oil in her luggage. During the trial, prosecutors revealed the amounts to be 0.252 grams and 0.45 grams.
The eight-time WNBA All-Star's defense team has argued that Griner's case was mishandled during her initial detainment, as well as the fact that she mistakenly packed the cartridges while rushing. Her lawyers also presented evidence that Brittney uses medical marijuana to deal with pain caused by injuries she sustained during her basketball career.
While the verdict and sentence are definitely a heartbreaking developments, it's not the end of the story for the Phoenix Mercury center. The United States is still negotiating a possible prisoner exchange. In July, news broke that the U.S. made a "substantial offer" to Russia weeks ago.
"We communicated a substantial offer that we believe could be successful based on a history of conversations with the Russians," a senior administration official said. "We communicated that a number of weeks ago, in June."
The deal reportedly includes exchanging Griner and Paul Whelan, an American detained on alleged espionage charges, for convicted arms dealer Viktor Bout.
In response to the verdict, the President Biden released a statement:
"Today, American citizen Brittney Griner received a prison sentence that is one more reminder of what the world already knew: Russia is wrongfully detaining Brittney. It's unacceptable, and I call on Russia to release her immediately so she can be with her wife, loved ones, friends, and teammates. My administration will continue to work tirelessly and pursue every possible avenue to bring Brittney and Paul Whelan home safely as soon as possible."
WNBA Commissioner Cathy Engelbert and NBA Commissioner Adam Silver also issued a statement on Griner's verdict.
"Today's verdict and sentencing is unjustified and unfortunate, but not unexpected and Brittney Griner remains wrongly detained. The WNBA and NBA's commitment to her safe return has not wavered and it is our hope that we are near the end of this process of finally bringing BG home to the United States."
Now that Griner's trial has concluded, talks for a possible prisoner swap are expected to ramp up, but the strained relationship between the two countries remains an obstacle. Russia has made it clear it is not happy about the talks being made public and wants this to be a more "quiet, diplomatic" negotiation.
Unfortunately, Brittney will be a political pawn between Russia and the U.S. until these men can figure out a way to navigate their issues without keeping this Black woman's life stuck in the middle.