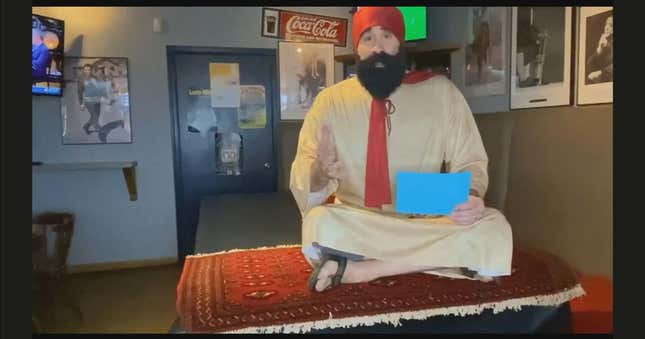 A white city councilman is refusing to step down from his position following backlash from several racist videos he made to promote his sports bar. Steve Sundberg of Aurora, Colo., made the videos back in 2020 to promote his Legends of Aurora Sports Grill, but it wasn't until the end of last year that controversy ensued.
In the footage, he portrayed Black, Asian, Latino and Muslim people, and used racist and religious stereotypes to do so. Sundberg made more than a dozen videos before he was elected to office in 2021. In one, he dons traditional Muslim clothing—including a turban—sitting on a prayer mat.
"Hey, it's Steve Syeed from Legends. My job is respond Google and Yelp review," Sundberg states in his version of a Middle Eastern accent. In another clip, he portrays a man named "Victor," a Spanish translator sporting a poncho and shares the special of the day—enchiladas—in a mixture of broken Spanish and English.
In a different video, Sundberg promotes Legends' dark lager beer—known as black beer—Sundberg uses a German accent while standing in a bathroom stall with a Black customer as he reinforces a stereotype about Black men's genitalia.
In a text message, he told NBC News that his humor was a result of trying to get through the early days of the pandemic:
"In a dark Covid shut down, when businesses were fighting to survive, with people experiencing mental health issues, uncertainty, suicide, substance abuse, domestic violence and fear, we were able to provide through a number of videos, humor and light heartedness, which drove business and cheered people up."

The city of Aurora is one of the most diverse in Colorado. Out of its 400,000 residents, nearly 30% are Latino, 16% are Black and 6% are Asian. During a City Council meeting last month, several residents demanded that Sundberg step down. Aurora Councilwoman Alison Coombs stated: "It's been harmful to the community, and his response has been inappropriate."