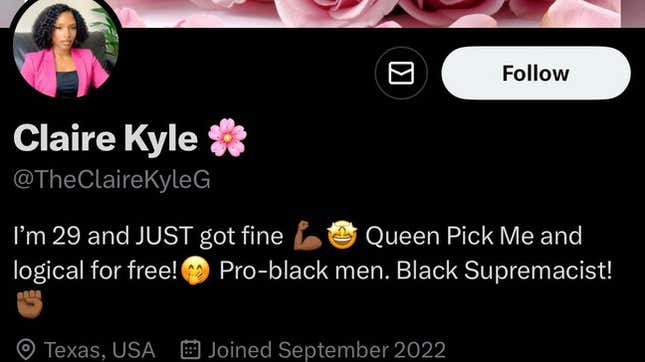 A woman who goes by (or went by) Claire Kyle online was exposed for a series of social media posts that made the white folks she worked for very uncomfortable. Her pro-Black approach and jabs at white people ended up putting her job in jeopardy, per CBS Austin.
Kyle's X (what used to be Twitter) profile described herself as, "29 and JUST got fine. Queen Pick Me and logical for free! Pro-Black men. Black Supremacist." The Thompson Elementary School teacher didn't bite her tongue in expressing herself when taking to the timeline. The main event came from screenshots of her since-deleted account where she wrote that she was "baffled" at seeing a white man in her house - in reference to her sister's boyfriend.
"This is supposed to be a NEGRO ONLY house," read the post. In addition to this spout, she posted screenshots of messages between her and her boyfriend asking him to come kill the man and bring all four of his guns.
It's unclear how her online activity got back to her employers but CBS mentioned K-12 education organization Crisis in the Classroom discovered her posts. Monday, Kyle took to X to declare victory over the attempt to take her down. 
"Yes. Y'all have found my job. They told me to delete the post but my job is safe since I did not directly wish harm on ALL white people," she wrote.
However, within 24 hours, the Mesquite Independent School District released a statement that didn't quite suggest Kyle was off the hook. In fact, it was the complete opposite.
Read more from CBS Austin:
However, in a statement shared to social media Tuesday, Mesquite ISD said it began an "investigation" immediately after learning of "a series of alarming, racist statements" shared by the teacher.

"As of this morning, the employee is no longer a part of the Mesquite ISD organization and is not eligible for rehire," the district said. "Due to privacy restrictions, Mesquite ISD cannot comment on the details of Personnel matters. Nevertheless, the highly offensive statements posted to her X account do not reflect the values and standards of Mesquite ISD, and the district condemns them in the strongest terms."
One would think this situation is a possible infringement on freedom of speech rights under the First Amendment.
However, the MISD employee handbook outlines that employees are held to the same professional standards in their use of social media as they are for any other public conduct. Though, termination would be a result of an employee's use of electronic media interfering with their ability to do their job.
After being dragged by her school district for her posts being "racist" toward white people... and also considering Texas is an anti-anti-racism state, her doom may have been brewing already.