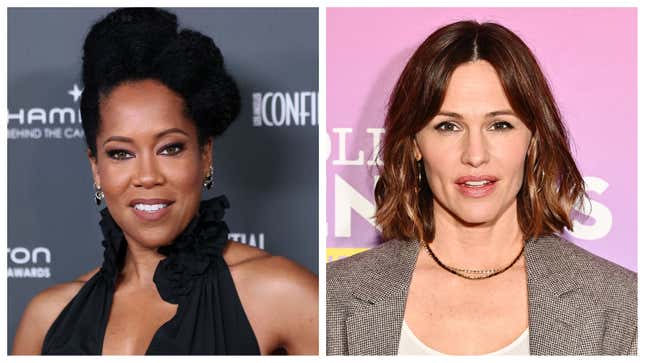 Sometimes, I hate the fact that Black people—and especially Black women—are always expected to go high when others go low. But in the case of Regina King and her reaction to an asinine question from Jennifer Garner, I can't help but feel proud at how well we seem to always keep our cool under pressure and in the face of blatant insensitivities. I'll explain.
The Upshaws Are Back & So Is Tracy Morgan On The Stand Up Mic: TV Picks Of The Week
You see, over the weekend, a clip from from comedian Chelsea Handler's 2017 show, Dinner Party: My American Experience, resurfaced online—but it wasn't just any old clip. No, this one in particular focused on a conversation between host Handler and Regina King, the latter of which was joined by Garner, Mary McCormack, Dan Savage, and Rob Riggle at the table. While the premise of the show revolves around conversations about "roots, patriotism, religion, and modern America's complexities," it was Garner's question to King about her ancestors that got folks up in arms.
"Let's talk about our families maybe, first. Where we came from, where our parents came from. Why don't you start, Regina?" said Handler.
"I grew up here in L.A. Born and bred, one of the few people that are born and bred in L.A. So that's a cool thing and I think I sort of wear it on my chest very proudly," King began. "Because so many people say, 'Oh L.A. is this, L.A. is that.' And I'm like, 'No, you're not from L.A. so you don't really know it.'
That's when Garner interrupted: "But do you know where your ancestors are from?"
King, as gracious as ever, embraced the curtness of Garner's interjection and responded with deliberate tongue-in-cheek-ness: "Well, yeah, we're part of the triangle slave trade. And um, from Sierra Leone, Liberia and Senegal. But my parents are both from the South. Met each other here, to this day I'm totally grateful my mom left. My mom was the one that was like, 'I am out fucking out of this bitch and I am going to see what else is out there.' And she came to L.A."
And that right there, ladies and gentlemen, is a masterclass on how to remain a class act when someone comes at you in a classless way. King was directly answering the questions that were asked to her from the host, giving information that she felt comfortable sharing.
Had Handler wanted her to go further, she would've no doubt asked King to expound on it—not interrupt her mid-answer to ask a question that almost every Black American person would have nearly the same answer too. I won't go so far as to call Garner racist, but between the glare she gave King and the insensitive nature/delivery of her question, I'm giving her a major side eye. And this is coming from someone who's been a longtime lover of Alias and 13 Going on 30.
And additional kudos to the One Night in Miami director too for having done the research to actually pinpoint her African heritage. Let's hope we can all be so blessed to do so.