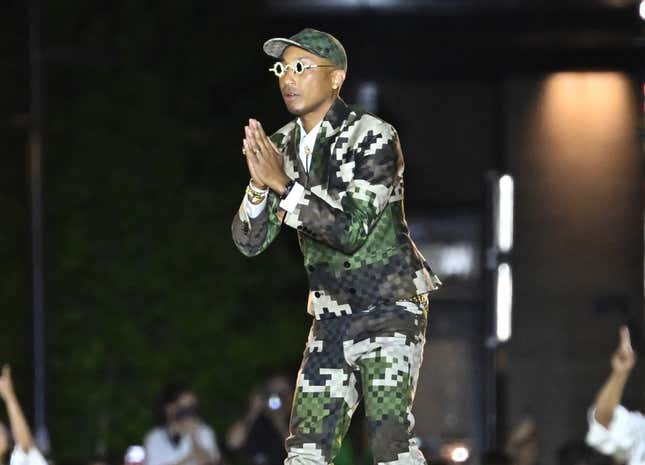 Did everybody except us get invited to Paris?

In fashion it's not really about the clothes, it's about who's sitting front row at your show. For his debut collection as the menswear creative director at Louis Vuitton, Pharrell Williams hosted a star-studded affair. Beyoncé; Jay-Z; Zendaya; Law Roach; A$AP Rocky; and Rihanna were all in attendance, according to Complex. Jay and Pharrell also performed their song "Frontin'" during the post-show festivities.
Beyoncé Becomes The Queen of The Grammys With Record Wins
As the stars mingled, the show turned into a mutual appreciation society. One of the most powerful moments ever happened when Queen Bey and current Hollywood It Girl Zendaya excitedly met up and even sat next to each other in the front row. Let us all hold hands and pray that this is the meeting that leads to a movie or limited series featuring Beyoncé and Zendaya as a pair of badass assassins who deal with toxic men while on a cross country road trip. It's what Black women deserve!
The event took place in Paris at the famous Pont Neuf bridge, which crosses the river Seine. It's the French equivalent of a designer shutting down the Brooklyn Bridge for a fashion show. As a trailblazing rapper/producer, the significance of this moment is not lost on Pharrell. He understands exactly what it means for him to be in this position in the exclusive, often closed-off fashion world.
"I can tell you that Virgil [Abloh] and me being here has to say to kids who look like us, 'Oh, I can do anything. I can be anything,'" Williams told British Vogue. "When you come from a culture that has been purposefully blocked and set in disadvantaged situations, you can't imagine what's even possible. But there's this narrative that's changing. So many of us are being swept up from one place and landing in fertile soil in other places, and being treated and watered and sunned like all souls should be. I can say there is an impact in that way, which is changing. It's not enough but it's happening. I'm very honored to be a part of that. When I say the sun is shining on me–and it's shining on all of us–this is a French house but they went right back to America and found another Black man, and gave me the keys."
There was a bit of controversy surrounding the music for the show, as it featured a new track from Clipse. In a verse on "Chains and Whips," Pusha T raps, "You think it'd be valor amongst veterans/I'm watching your fame escape relevance. We all in a room but here's the elephant/You chasing a feature out of your element/And those lab diamonds under inspection/The question marks block your blessings/It's no tombstones in the desert/I know by now you get the message," per Complex. It didn't take long for the internet to guess that this verse was aimed at Jim Jones, who recently said Pusha shouldn't be included as one of the greatest rappers of all-time.
While reactions to the collection, which mixes streetwear with Louis' signature luxury, seem to be mostly positive, the headlines all focus on the stars in attendance. We won't really be able to gauge the success of Pharrell's debut collection until the retail world weighs in.