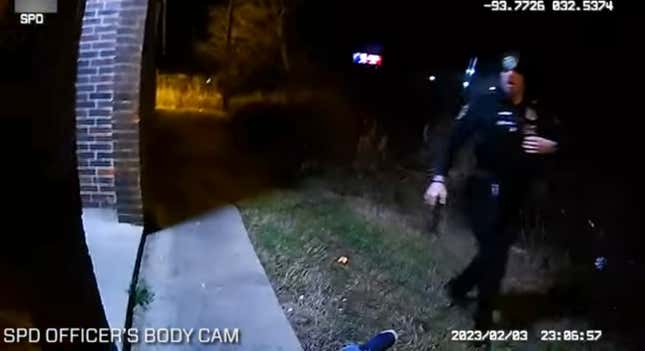 A former Shreveport officer pleaded not guilty to an additional charge in the fatal shooting of Alonzo Bagley back in February. Alexander Tyler, 23, was arraigned Monday on one count of malfeasance in office in connection with Bagley's Feb. 3 death. Prosecutors earlier this year charged Tyler with one count of negligent homicide for Bagley's death.

The charges each carry a maximum possible sentence of up to five years in prison.
Cedric the Entertainer Shares Details Of His First Crime Novel & Tackles Our Random Rapid Fire Questions
Body camera footage of the incident showed Tyler and another officer responding to Bagley's home on a domestic violence call. In the video, the two officers are seen chasing down Bagley after Bagley, 43, escaped the apartment through a bedroom window. Bagley hid in the doorway of another building but by the time Tyler approached him, he was immediately shot in the chest by the officer's service weapon.
The two contacted EMS and the second officer performed CPR but to no avail. Tyler was arrested almost two weeks after the incident and resigned from the Shreveport Police Department after just two years of working there.
Dhu Thompson, Tyler's defense lawyer called the charges, "extremely disappointing," on Monday, according to the Associated Press.
"However, we have been prepared since day one to bring the case and facts therein to an impartial jury. We look forward to our day in court."
Although Tyler, who is white, was only on the Shreveport force a short time, he had already been suspended without pay twice before he shot and killed Bagley, according to documents obtained by CNN.

It's not just criminal court Tyler has to appear for.
Bagley's family filed a $10 million lawsuit against Tyler alleging he was not justified in using lethal force against Bagley, who they say was unarmed and posed no threat, per CNN. Attorney Ronald Haley is representing Bagley and previously represented the family of Ronald Greene, a motorist who died while in custody of Louisiana officers in 2019.