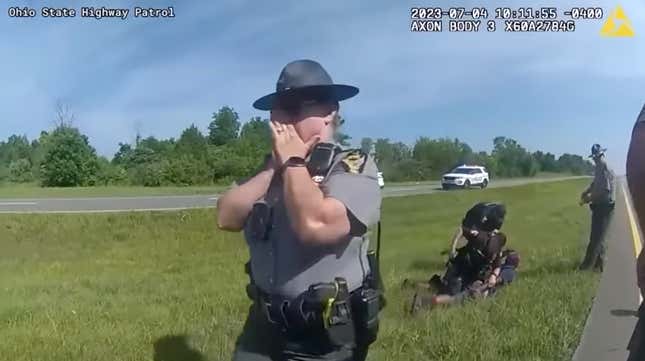 An Ohio police officer is under investigation after releasing a K-9 on a man during a traffic stop. According to ABC 9 News, newly released body camera footage shows the man surrendering with his hands up just moments before the officer orders the dog to attack him.

My Hip-Hop Story: Cedric The Entertainer On Jay-Z and His Indisputable Role In Shaping The Genre's Culture
What could have been a routine traffic stop on July 4 turned into a 1960s, Bloody Sunday-style dog mauling. Ohio State Highway Patrol said 23-year-old Jadarius Rose was pulled over for speeding, per WOSU Public Media. However, in another report, they said he was stopped for a missing mudflap on his semi-truck. Regardless of the reason, the cops say Rose refused to pull over and commenced to a high speed chase. Once Rose stopped his vehicle, he got out of his car with his hands in the air.
Circleville police then arrived on the scene with a K-9 unit. Nowhere in the reports does it mention Rose being suspected of holding drugs or narcotics, so it's unclear why they authorized to let the dogs out. In the body camera footage, conflicting orders are shouted as a Circleville officer tells Rose, "Get on the ground, or you're going to get bit!" and a state trooper shouts back, "Do not release the dog with his hands up!"
Despite the command, they released the dog anyway, and the video shows Rose diving to the ground for cover and screaming for help as the dog chewed away at him.
Read more from The Washington Post:
Immediately after the dog's first bite, Rose shouted, "Please, please get it off! Get it off!" screaming for help. Police sergeants told Speakman to command the dog to release Rose, whose pained howls can be heard on the video. The dog's teeth gripped Rose for more than 30 seconds, impaling his skin and causing significant bleeding on his arms, the video showed.

According to a report from the Highway Patrol, Rose was treated with first-aid kits and taken to Adena Regional Medical Center in Chillicothe, Ohio. At the hospital, Rose told State Trooper Tyler Boetcher he did nothing wrong and did not understand why he was being stopped, the state police report said. Rose said he was delivering products to Grove City, Ohio, before returning home to Tennessee.
Rose received first aid on the scene and the troopers contacted EMS, per the report. Rose was still charged with failure to comply, a fourth-degree felony, but was released from Ross County jail three days later. It's unclear if he retained an attorney.
As of now, Officer Ryan Speakman, the Circleville K-9 handler in question, hasn't been placed on leave or faced any internal disciplinary action that we know of. However, the Circleville police department is investigating the incident through their use-of-force review board and expects to release their findings by the end of the month, per WashPo.