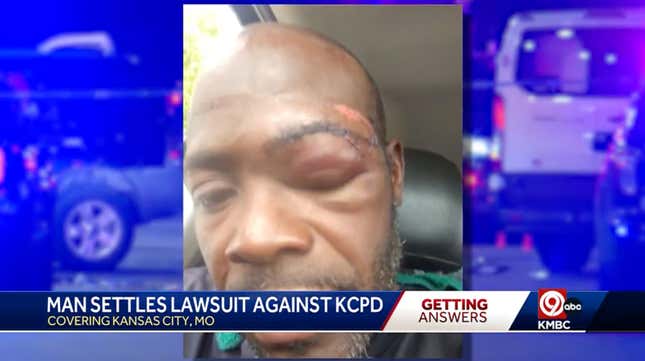 A Kansas City police officer is under investigation for filing a false report from a 2022 incident. According to The Kansas City Star, Jackson County prosecutors discovered the discrepancy after the victim of the incident disclosed new details in a lawsuit.

In August 2022, Mack Nelson, 45, filmed a police shooting at a gas station that resulted in the death of a 31-year-old man. Nelson says he walked into an area near the scene that wasn't marked off with police tape when an officer approached him. His lawsuit against the Kansas City Police Department says he was grabbed, thrown onto the ground and his head was forced into the pavement. At some point, he fell unconscious. Nelson suffered injuries to his body, face, eyes and shoulders.
However, the police report reads as the typical "resisting arrest" story that made it seem as though Nelson caused his own injuries. Officer Alyssa Surges wrote that he fell to the ground and "jerked his arms away and attempted to twist his body away from P.O. Frazier." Though, Nelson's video and a bystander's video tell a different story.
Now, the officers involved are being investigated but not for Nelson being MMA slammed onto the ground but for telling a fib about what happened in their report.
Read more from The Kansas City Star:
Missouri law says a person commits the offense of making a false report, a misdemeanor, if they give false information to any person for the purpose of implicating another person in an offense or make "a false report to a law enforcement officer that an offense has occurred."

The police report written by Surges describes how Nelson was issued a summons for disorderly conduct, trespassing and resisting arrest. State law also says an officer can be disciplined if they have "committed any act while on active duty or under color of law that involves moral turpitude" or if they have committed any criminal offense.

Discipline can include counseling, a letter of reprimand, suspension, demotion or termination, according to the Kansas City Police Department's policy.
Nelson's attorney, John Picerno, claims the police officers straight up lied and need to be held accountable for providing a false report.
"You may have a different opinion on the use of force or resisting arrest, but it's obvious to anyone who watches the video he did not fall, and then to submit a police report where they said he fell to the ground — that's just a flat out lie," he said via The Star.
It's unclear if the investigation could result in criminal charges related to the officer's use of force against Nelson. However, he received $500,000 in settlement in the civil suit he filed against the officers.