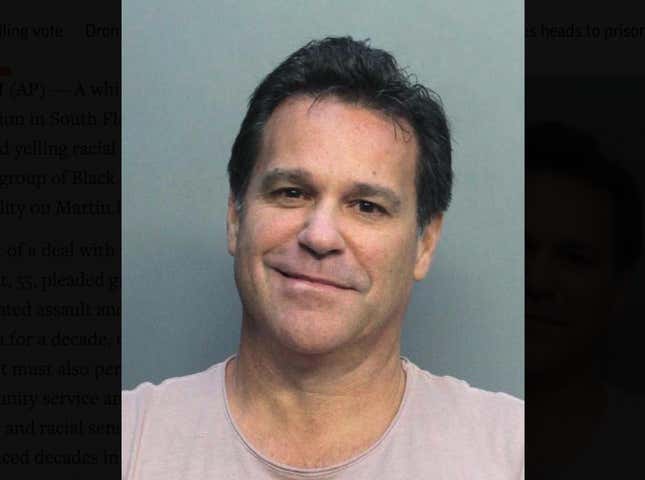 What's the proper sentence for a man who walked up on a group of Black teens mind their business with a gun in hand and mouth full of racial slurs? According to NBC 6 South Florida, the man guilty of this very thing escaped prison time.

Tackling A Black Maternal Health Crisis & Embracing Reproductive Justice | The Root Institute
Mark Bartlett, 55, was accused of confronting a group of Black teens riding their bicycles in a Martin Luther King Jr. Day protest against housing inequality in 2019. Videos caught him charging toward the boys holding a handgun and yelling the n-word while they stopped traffic for the demonstration. Bartlett initially tried the good ol' self-defense argument, insisting he was being "held hostage" in his own vehicle but Miami-Dade County Judge Alberto Milian wasn't having it.
Honestly, what is reasonable about climbing out of your SUV to taunt a couple of Black kids? Bartlett pleaded guilty as part of a plea deal to get of serving years in prison.
"I apologize for my conduct that day. I was wrong to use those words and correct the pain that my words have caused anyone. I sincerely apologize," was all he had to say for himself during the hearing… and also because an apology was part of the deal.
Read more from AP News:
As part of a deal with prosecutors, Mark Bartlett, 55, pleaded guilty to a hate crime and aggravated assault and also agreed not to possess a firearm for a decade, the Miami Herald reported. Bartlett must also perform 300 hours of community service and take anger management classes and racial sensitivity training. Bartlett could have faced decades in prison, but Miami-Dade County Judge Alberto Milian granted Bartlett a withhold of adjudication, which means Bartlett will avoid a formal conviction.
That's not all. With permission from his probation officer, Bartlett can be temporarily released on business trips to Puerto Rico and Chicago, per NBC 6.
Quite the punishment, eh? After threatening the lives of a few innocent Black kids, he gets to live his life while they live with the trauma.