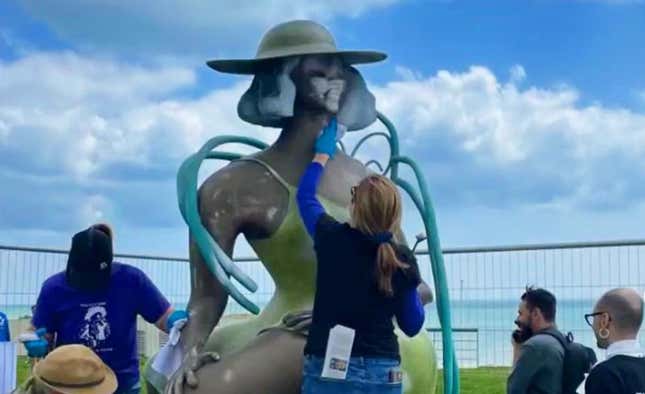 A sculpture of a Black woman located on the south coast of England was vandalized last week with white spray paint. According to The Art Newspaper, 300 volunteers showed up to help restore the statue to its original bronze-y glow.

Feds Charge Four Officers In Breonna Taylor Death, Allege A Conspiracy To Mislead
New York artist Tschabalala Self, known for her colorful, multimedia depictions of the Black woman's body, created a piece called "Seated," in 2022. The 10-foot bronze statue, depicting a Black woman dressed in green, was installed at the De La Warr Pavilion in Bexhill-on-Sea and was to reside there until October. However, as expected, someone had to ruin it for everyone.
The report says the perpetrator vandalized the piece by covering the woman's skin in white paint - an obvious racist jab against Black skin. In response, the community reacted to the act of hate by coming together to restore the piece.
Read more from CNN:
Volunteers were invited to "help remove the paint and bring the community together in an act of peaceful resistance."

A pavilion spokesperson said that around 300 people subsequently attended. "We had to extend the event to make sure everyone who had been queuing could participate due to the high turnout," the spokesperson said. Seated will continue to be restored professionally and will re-open on June 3.
A similar occurrence happened to the statue of Breonna Taylor placed in downtown Oakland. Two weeks after the bronze bust was installed, it was found broken in pieces by most likely, an anti-BLM protestor, per KQED. 
Self responded to the defacing of her work in a statement to Instagram saying the act was not only an attempt to erase the woman's brown skin but also her strength. On the other hand, this hateful incident reflects a reality for most Black women.
"Despite my disappointment I am not surprised as Black, female — and especially Black female bodies — are often targets for abuse," Self wrote.
Not even Black art can take up space without racist disturbances.