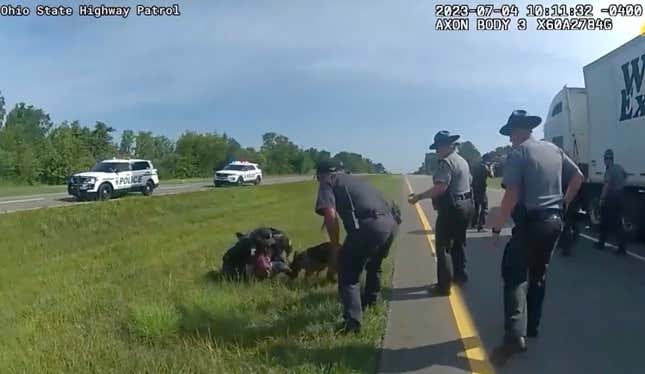 Moments before Jadarrius Rose got out of his vehicle after being pulled over by Ohio State High Patrol officers, he called 911 in fear for his life. Instead of getting help, his interaction with cops resulted in him being mauled by a police K-9.

In a 911 call first obtained by the digital publication Insider, Rose does exactly what motorists or anyone in fear for their safety are taught to do: he called the universal number for assistance in an emergency. His problem, though, was who he needed help from: a crew of cops who, according to Ross, approached him aggressively before things got even worse.
"I was trying to pull over for the police and when I pulled over, I parked the truck and I was about to comply with them, but they all had [their] guns drawn out for whatever reason. I feel like [they're] trying to kill me," he told a Ross County dispatcher who then advised him to pull his car over.
Rose, 23, was stopped for—of all things—a missing rear mudflap on his semi-truck, according to the OSHP's incident report. During the 911 call, he mentioned his tires being damaged after the troopers put out tire-deflation devices to stop Rose's truck. He repeatedly told the dispatcher he didn't feel safe stopping his vehicle, explaining he was just a truck driver trying to make a delivery.
"I don't know why they have their guns pulled out like I'm a threat or something," he said.
In another call that was answered by a Pickaway County dispatcher, Rose described being chased by 20 white police officers with their guns drawn, per NBC. Eventually, stopped his vehicle and got out of the car with his hands raised but that's when things escalated.
Read what happened next from NBC News:
That's when a Circleville police officer, identified as "R. Speakman," deploys his K9 and instructs the dog to attack Rose.

"Do not release the dog with his hands up!" a trooper can be heard yelling multiple times before Speakman releases the dog.

The bodycam video then appears to show the dog biting and pulling Rose by his arm as he screams loudly. Although Circleville police vehicles have dashboard cameras and officers are meant to wear body cameras, Circleville Mayor McIlroy said he does not know if Speakman had one on during the incident.
As Rose was being treated for his injuries, he complained about being restrained by the officers. One state trooper tells him, "Nobody is trying to hurt you," to which Rose responded, "Shit, you just let a dog bite me."
After the incident, one trooper is heard asking his colleagues, "Was I not loud enough?" in reference to ordering the Circleville officer not to unleash his K-9. Another officer responds, "You said it like 3-4, multiple times."
McIlroy told NBC that Speakman was placed on paid administrative leave five days ago but this isn't the first time his conduct has been scrutinized by the department. Speakman was investigated in connection to another incident from within the past two years but the mayor didn't offer details to what happened.
Now, the cop is under investigation by the city's Use of Force Review Board.