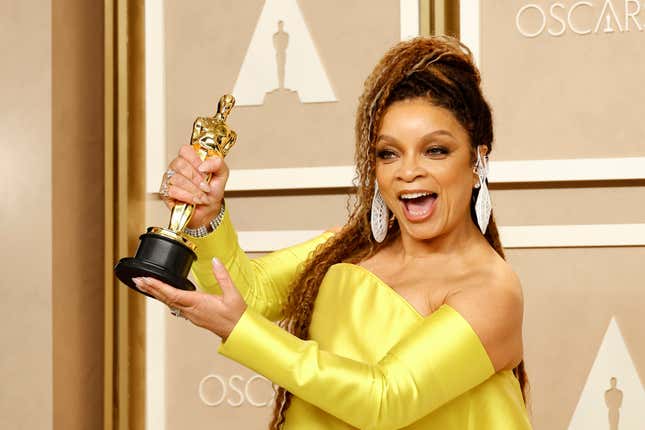 We're all still disappointed that Angela Bassett didn't win the Academy Award for Best Supporting Actress for Black Panther: Wakanda Forever, but the film's two-time Oscar-winning costume designer, Ruth E. Carter, had nothing but praise for Wakanda's Queen. During backstage interviews after her big win, she explained how she approached Ramonda's regal finery in the Marvel Studios sequel.

2023 Oscars: Ruth Carter On Turning Angela Bassett Into A Queen Through Costume
"The first film we were introduced to Queen Ramonda as the queen, as the support to T'Challa. In Wakanda Forever, we're introduced to her as the ruler of Wakanda. So we stepped up. We enhanced," Carter said. "Angela always wanted to play a queen. And so, to amplify her as the ruler of Wakanda, we added more vibranium. We added an extra element to her isicholo, the married woman's crown that she wears. We gave her the royal color of purple and adorned in gold as she enters the UN in this gown and it was incredible to elevate Queen Ramonda to this new status. And so, the process was to give her strength and show also the way that she embodied her place in Wakanda. As you can see in the film when she sits on the throne, she's in a gray, one‑shoulder dress. And the exposed shoulder shows her strength because, you know, Angela, she got those guns, right? So, we exposed her arms. We exposed her arms in the UN to show how beautiful women can be, how strong and vulnerable at the same time, but also can lead a nation."
During her acceptance speech, Carter revealed that she had just lost her mother. While speaking with press backstage, she expanded on her beautiful relationship with her mother, and how proud she would be of her daughter.
"My mom passed away last week, and I had a great relationship with her in her final years, the same relationship that I've always had with her," she said. "I was her ride or die, I was her road dog, I was her sidekick. And she always wanted me to follow my dream. Even after I graduated from college, and I came back home to do an internship, and I didn't quite know where I wanted to step next. I packed up my Volkswagen Rabbit, and my mother said, 'You don't want to stay here. You can just go.' So I know she's proud of me. I know that she wanted this for me as much as I wanted it for myself."