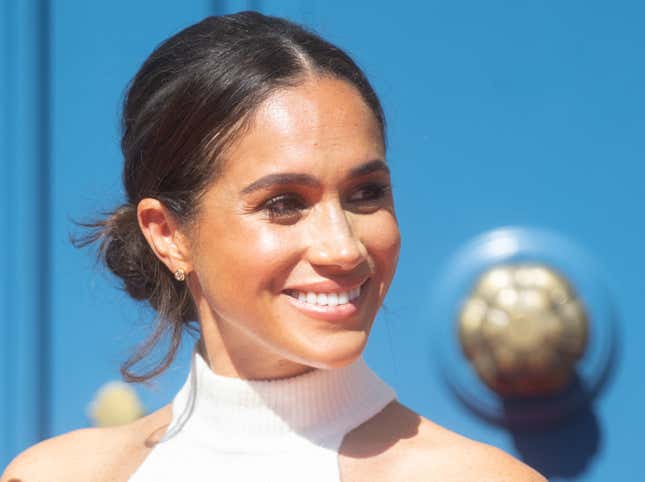 Talks of the highly-anticipated The Bodyguard sequel film starring Kevin Costner has been picking up steam lately thanks to the rumors swirling around of it's potential lead actress: the Duchess of Sussex herself, Meghan Markle.
Courtney B. Vance in Heist 88 Is Our Black TV Pick of the Week
Per Marca, Markle has reportedly been offered the role though no decisions have been officially made. If she takes it, it'll be her first major acting gig since she let go of her career after marrying Prince Harry. (However, the timing of this isn't ideal seeing as how the actor's union SAG-AFTRA is currently on strike which means no deals can be made or projects done until negotiations with the AMPTP are resolved.) The last we saw of Markle in TV or film role was her portrayal of Rachel Zane on the hit USA series, Suits back in 2011.
What's interesting to note though, would be the fact that if she should take the deal once the strike dust settles, her involvement in the film would be some sort of poetic, full circle moment, seeing as how Prince Harry's own mother—the late Princess Diana—was initially approached to star in the sequel film, according to Costner.
In a 2019 interview with People TV, the veteran actor revealed that he approached Princess Diana with the idea for the sequel and for her to star in it not too long after the original film was out. His idea was for him to reprise his role as bodyguard Frank Farmer and serve as the protector to the princess from paparazzi.
"I just remember her being incredibly sweet on the phone, and she asked the question, she goes, 'Are we going to have like a kissing scene?' She said it in a very respectful way," Costner said of his conversation with the princess. "She was nervous because her life was very governed. And I said, 'Yeah, there's going to be a little bit of that, but we can make that okay too.'"
That would have marked Princess Diana's first ever acting role, but in a sad twist of fate, she received the script for the film just one day before her fatal car crash. But with Markle now reportedly in talks to star in it in now, maybe there will be some sort of poetic justice that happens after all.