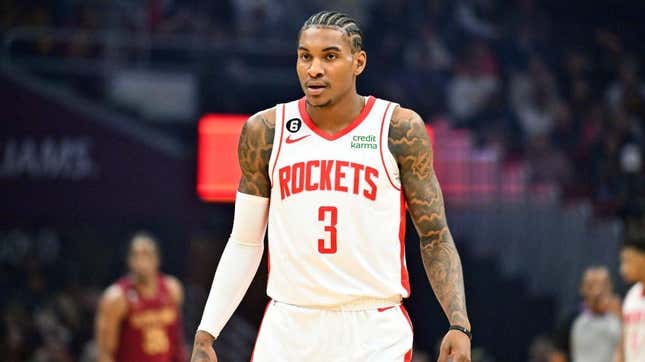 I wish I could pretend to be shocked, but I'm not.
On Monday, Houston Rockets guard Kevin Porter Jr. was arrested and charged with felony strangulation and assault after an incident involving his girlfriend, WNBA player Kysre Gondrezick, in a New York City Hotel, according to ESPN.
How A Coffee Brand Scaled Up Its Business & Scored A Partnership With The NBA | Securing the Bag: Part 2
A spokesperson said, "Upon arrival, officers were informed that a 26-year-old female sustained a laceration to the right side of her face and was complaining about pain to her neck. A preliminary investigation on scene determined that a known individual struck her multiple times upon her body and placed his hands around the neck."
While many, including myself, are immediately wondering what the punishment could be for Porter, the Rockets aren't allowed to give their starting guard any punishment at the moment. However, NBA commissioner Adam Silver can place Porter on "administrative leave" with pay for a lengthy amount of time.
But based on the response and punishment they gave to Charlotte Hornets forward Miles Bridges, I expect the NBA to have another disgraceful suspension ready for Kevin Porter Jr.
Will the NBA's approach to Kevin Porter Jr.'s case differ from Miles Bridges'?
If you recall, a year ago, Miles Bridges turned himself in to police in Los Angeles and was charged with felony domestic violence, specifically, he faced two felony counts of child abuse and one felony count of injuring a child's parent.
Shortly after his arrest, his wife and mother to his children, Mychelle Johnson, shared photos of the injuries she sustained during the incident and claimed that she fractured her nose, fractured her wrist, and tore her eardrum.
Although it was later determined that Bridges would serve no jail time, he was sentenced to three years probation. It felt like a certainty that the NBA would give the then-NBA free agent a significant suspension for the upcoming NBA season. Instead, they slapped him on the wrist.
In April, the NBA announced Bridges would be suspended "30 games without pay as a result of a domestic violence incident involving the mother of his children."
Although it sounded like 30 games, in reality, the NBA said, "Mr. Bridges did not sign an NBA contract for the 2022-2023 season, missing all 82 games. In recognition of that outcome, the NBA has deemed 20 games of the suspension to have been already served. If Mr. Bridges signs an NBA contract, he will be required to miss the first 10 games for which he is otherwise eligible and able to play."
Well, Bridges signed with the Hornets in July, meaning he'll only miss 10 games. This shows that the value of women to the NBA is only 12% of an NBA season. Not good enough.
With that in mind, I hope the NBA takes a different approach when it comes to Kevin Porter Jr. and his criminal case. To make matters worse, the woman he's accussed of injuring is a prominent WNBA player, who the NBA has been doing their damnedest to support and promote.
So while I'm hopeful Porter's punishment will be more significant than Bridges', I'm not optimistic considering how they've handled similar situations. This frustrates me and should frustrate any sports fan who has a mother, sister, aunt, or wife.
In reality, I'd feel better if Porter never played in the NBA again.