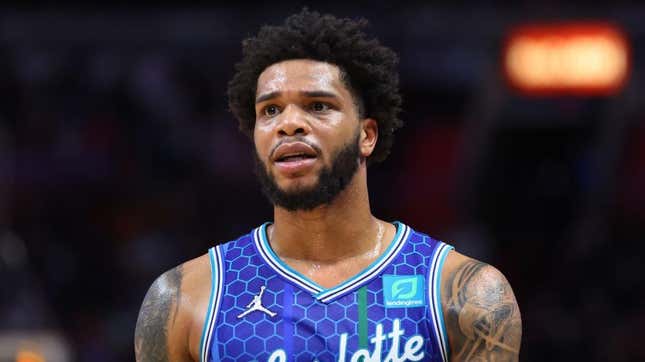 These days, it's hard for NBA news to go under the radar. But the news of Miles Bridges' disgraceful suspension on Friday was something I did not see enough people frustrated about.
It's been a while since Bridges has played in the NBA, so let me remind you who he is. He's currently a free agent who previously played for the Charlotte Hornets during the 2021-2022 season. But less than a year ago, on June 2022, he was arrested for felony domestic violence, where his wife accused him of brutally injuring her in front of their son. At the time, she detailed the injuries she sustained during their domestic dispute and shared images, claiming she had, "a fractured nose, wrist, torn eardrum, torn muscles in my neck from being choked until i went to sleep [with] a severe concussion."
Although it was determined in November that the free agent forward would serve no jail time and was instead sentenced to three years probation, it felt imminent that the NBA would give Bridges a significant suspension next season. Instead, however, they slapped him on the wrist.
On Friday, the NBA announced that Bridges would be suspended "30 games without pay as a result of a domestic violence incident involving the mother of his children."
I know what you're thinking: "30 games seems like a lot." But if you read the entire statement from the NBA, they continued to say, "Following his arrest and plea, Mr. Bridges did not sign an NBA contract for the 2022-2023 season, missing all 82 games. In recognition of that outcome, the NBA has deemed 20 games of the suspension to have been already served. If Mr. Bridges signs an NBA contract, he will be required to miss the first 10 games for which he is otherwise eligible and able to play."

So if Bridges signs to a team this summer, in actuality, he'll only be suspended 10 games instead of the 30 that's being reported. I'm not an expert on NBA suspensions, but less than 15 percent of the season does not feel like enough. Why has the NBA determined that he already served 20 games?! He wasn't signed to a team. There was nothing for him to be suspended from.
The NBA has given Bridges a huge break that he does not deserve. Above all else, the NBA gave a disappointing answer to how they value women. To them, it only seems to be 10 games.