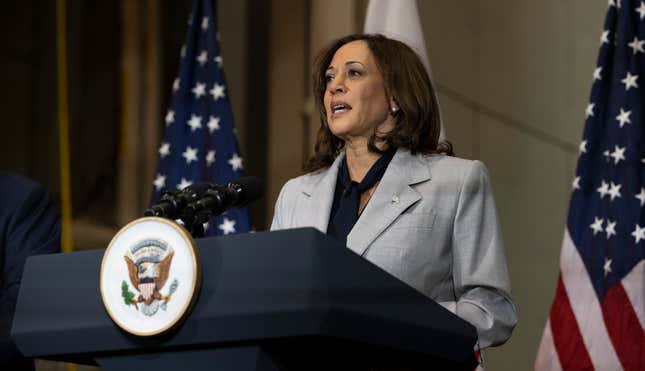 Republicans taking jabs at President Joe Biden's age isn't a new phenomenon. But, GOP Presidential candidate Nikki Haley took things way further when she predicted Biden would likely die within the next five years. Her poorly executed Miss Cleo impersonation aside, what Haley's trying to do here seems pretty straightforward.
The Biden And Trump Classified Documents Scandal Explained
Just read what she said on Fox News last week; "He announced that he's running again in 2024, and I think that we can all be very clear and say with a matter of fact that if you vote for Joe Biden, you really are counting on a President Harris because the idea that he would make it until 86 years old is not something that I think is likely," said Haley, 51.
Rather than run against Biden and his record, Republicans like Haley want to make this election about Harris, says Jo Von McCalester, a Political Science Lecturer at Howard University. "To imply that [Biden] is not going to live and if you vote for him, it's really going to be her," says McCalester, "is to dog whistle to people that you could end up with a Black woman as President in your country."
Nina Smith, a political strategist and former senior advisor to Stacey Abrams, agrees with McCalester's assessment. "It's definitely the GOP trying to weaponize an inherent bias that we have against women in leadership," she says.
Ted Cruz Chimes in on Biden's Age
Haley isn't the only Republican trying to position this as a race against Harris, not the sitting President. In an interview last week, Texas Republican Senator Ted Cruz made similar jabs.
"Joe Biden is 142 years old," said Cruz on Fox News. "Can you imagine Kamala Harris sitting across from Putin or Xi and just cackling?"
The imagery employed by Cruz is very intentional, says McCalester. "The idea of her sitting across from Putin gives two visuals," she says. "It gives the visuals of a Black person that you don't believe sounds intelligent enough to sit across from a 'world power or leader.' It also harkens to the fact that she's a woman."
This isn't the first time Republicans have tried to make Harris the focus of their attacks on the Biden-Harris ticket, says Cliff Albright, Executive Director of Black Voters Matter Fund, a voting rights organization.
"They tried it to a certain extent in the last presidential election, right? But there, there really wasn't a consensus on the strategy," says Albright. "It's likely to increase this time because now, unlike in 2020, it's even more clear what Biden's merits are. They're starting to realize that we're gonna have a hard time running against his record."
Is Making The Election About Harris a Winning Strategy?
The bigger question is whether Republicans can win by making the election about Harris. According to Smith, it might be the most effective tool in their arsenal, especially for someone like Haley.
"Nikki Haley is barely registering in polls. She's not making up any ground when it comes to beating Donald Trump in a primary," says Smith. "I think they know they have to split this ticket up... if you split them up, then his age becomes a question, and her experience becomes a question."
"It's really pathetic," says Albright. "It's a sign that they know they can't win just on the strength of their case... and so when all else fails in the Republican party, what do they lean on, and the usual answer is good old racism."
None of these strategies are new, says Albright pointing to the infamous Willie Horton ads used against Democratic nominee Michael Dukakis. But in the modern era, he argues, they have their limits. "They're effective to a certain extent with the base, but all recent elections are showing us that it can go only so far," says Albright, adding. "So, will it be more effective than going after Biden? I think so. Will it be effective enough for them to win? I don't believe so."
Hillary Holley, Executive Director of Care in Action, a nonprofit progressive labor organization, and a former Democratic strategist in Georgia, says she doesn't believe these tactics can win if Progressive groups are on the ground making a case for the administration and Harris' accomplishments. "People may be concerned that voters may fall for these distractions, these lies," says Holley. "Our allies have proven that we know how to talk to voters. We can tell voters the truth, and we once we do that massive robust outreach, they end up voting for progress."
McCalester is more skeptical. This could "absolutely" be a winning message for Republicans, she says. "It's the we're gonna appeal to racists, we're gonna appeal to sexists [strategy]," she says. Unfortunately, it's worked repeatedly for Republicans, says McCalester, and there's no reason to think it can't work again.
"I predict things can only get worse," she says.