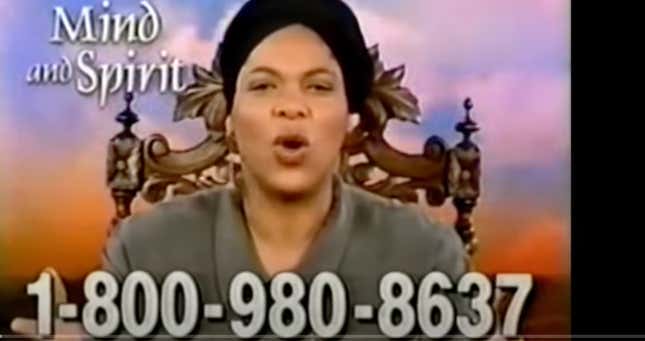 The holiday break gave me plenty of time to reflect and set my resolutions for the new year. Ok, who am I kidding? I used the time to binge-watch a whole lot of television (thanks to my brother-in-law's HBO Max subscription). And after I got all caught up with Insecure (don't judge), I stumbled upon Call Me Miss Cleo, an HBO Max original documentary that tells the story of the rise and fall of one of the most famous fortune tellers in history.

SZA Strikes The Heart With Songwriting Prowess on "Kill Bill"
If you watched BET between 1997 and 2003, you probably remember seeing those infomercials with Miss Cleo's booming voice urging you to call the Psychic Readers Network hotline for your free tarot card reading. But this documentary attempts to give viewers a better understanding of who she was until her untimely death in 2017 at age 53.
Here are a few things I took away from Call Me Miss Cleo.
Miss Cleo Was No Psychic
This probably isn't a news flash for anyone who saw those corny infomercials back in the late 90s, but Miss Cleo was not the psychic shaman she claimed to be. Known to some as Ree (short for Youree), she was a member of the Seattle art scene who wrote and directed plays. According to some interviewed for the film, Ree was known to turn into a character in the middle of a conversation. Miss Cleo was actually born out of a character she developed while at Seattle's Langston Hughes performing arts center.
None of the "Psychics" at the PRN Were Real
Miss Cleo may have been one of the most famous psychics from the Psychic Readers Network (PRN), but there were others. And the other PRN "psychics" interviewed for Call Me Miss Cleo were quick to admit that they weren't qualified to tell people's futures. Most of them were looking for ways to earn extra money and stumbled upon an ad for PRN psychics in the newspaper. In one of the most disturbing revelations, the "psychics" admitted they weren't even screened before they started working. They read the callers' "fortunes" from a script provided by the company.
Miss Cleo Was A Fake Ass Jamaican
If you've ever seen a Miss Cleo infomercial, it's almost impossible to forget her "Call me now" catchphrase at the end of her pitch. But until I watched the documentary, I forgot just how horrible her Jamaican accent was. According to people interviewed for the film, the fake accent added to Miss Cleo's appeal and fed into the fake notion that she could somehow tap into the realm of the dead.
Those Tarot Readings Didn't Make Her Rich
The Psychic Readers Network charged callers $5 a minute for their readings, and other psychics in the doc said they were told by their bosses to keep callers on the phone as long as possible. In the film, Miss Cleo says she was paid a mere $1750 for the first commercial she made for PRN which made the company millions. And because she didn't own the rights to her image, she didn't benefit from the company's success.
No One Really Knows Who She Was
Call Me Miss Cleo features interviews with lots of people who called her a friend, but none of them could completely break down her back story. Everyone seemed to have bits and pieces of her past, but they couldn't confirm whether or not any of that information was true. Miss Cleo told some friends that she was brought to the states from Jamaica by her mother, who gave her to a Jamaican couple who took care of other children. Although her birth certificate, which says she was born in Los Angeles, disputes that claim.
She Was An Advocate for the LGBTQ Community
I was surprised to learn that Miss Cleo was a proud advocate for LGBTQ rights. And according to the documentary, she came out as a lesbian in 2006. Two of her past partners, Matt (formerly Marianne) Sheridan and LouAnn LaBohn, who were interviewed for the film, shared fond memories of their time with Cleo.
People Loved Her
One thing that came through in the film was just how much Miss Cleo was loved. Godsons, friends, former roommates and colleagues expressed what an impact she had on them and even got choked up as they talked about her. And because imitation is indeed the sincerest form of flattery, That's So Raven's Raven-Symoné and Debra Wilson of Mad TV reminisced on how they spoofed Miss Cleo on their respective shows.
"I don't know that much about who she was. I don't know much about what her actual mystical abilities were or weren't. I don't really believe in psychics or magic. But I do think that there are certain people who are good at being able to talk to someone and sort of understand who they are in an instinctive way and be able to give advice in a way that feels magical," said Bennett Madison, a PRN phone psychic in the film.