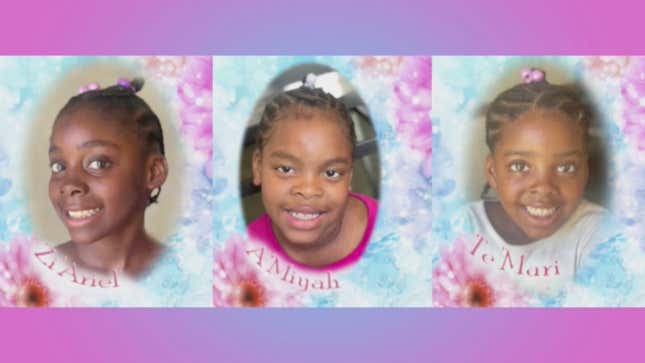 For nearly a year, the family of three Black girls found dead in an Atlanta, Texas pond have sought justice in their loved one's case. According to KXAN, the investigation into their death has progressed from an accidental drowning to a homicide.
Are Black San Franciscans Getting $5 Million Each in Reparations?
Over the past three years, up to 60,000 Black girls were reported missing by the FBI's National Crime Information Center. Three of them include 9-year-old Zi'Ariel Robinson-Oliver, 8-year-old A'Miyah Hughes and 5-year-old Te'Mari Robinson-Oliver who went missing July 29 of last year. Their cousin, who was caring for them at the time, reported their disappearance to the police. The very next day, they were found in a pond. Initially, reports said the incident was a drowning. However, an autopsy in March showed evidence that the three were strangled and suffered lacerations to the face, per the Cass County District Attorney's Office. Now both the police and the girls' family are looking for who is responsible for their death.
Though, a looming question remains: What took so long?
Read more from Yahoo! News:
Now advocates are stepping in to demand answers. On April 3, Minister Quanell X, the leader of the New Black Panther Nation, traveled four hours from Houston to hold a press conference in Cass County and demanded that the FBI and Department of Justice step in to investigate. The FBI has not responded to a request for comment from Yahoo News.

Quanell X stood beside the mother of the Oliver sisters during the press conference. "She was told that they drowned, but she always had a suspicious feeling that the girls did not drown. Well, her suspicions were confirmed by the autopsies," Quanell told Yahoo News.
Many supporters of the Oliver sisters believe this investigation was delayed because the girls were Black. Historically, the cases of missing and murdered white girls and women receive more attention by the media and the police compared to their Black counterparts. The Black community has led the push to get the story out about the three girls, including social media posts from celebrities like Viola Davis and Niecy Nash.
Because this investigation has come so long after the girls' death, it may be even more difficult to find who is behind it, authorities say.
"A child killer. A serial killer is on the loose. One who was not afraid to murder three children. And if you kill three you will kill more. Especially when you believe you will get away with it like this perpetrator has," said Quannell X.
The Texas Rangers and Cass County Sheriff's Office asks the public to contact Texas Ranger Josh Mason (903) 255-5727 with any information or tips on the case.