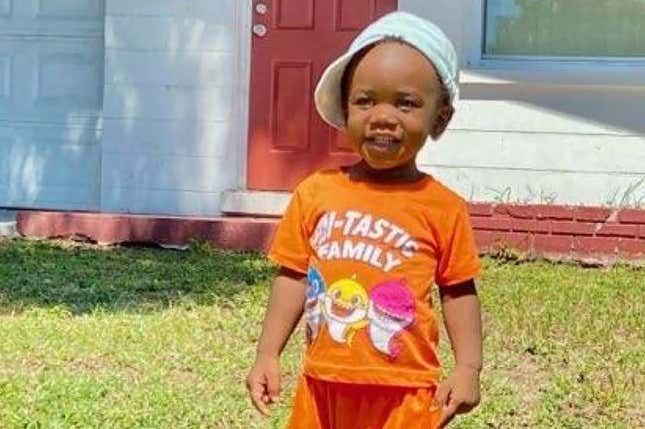 Updated as of 4/25/2023 at 9:30 a.m. ET
Florida police say the toddler who went missing and was found dead in the mouth of an alligator last month was drowned by his father, according to NBC News. The 2-year-old was killed just days after his father fatally stabbed his mother.
Kelly Rowland and Marsai Martin On Their New Film "Fantasy Football"
St. Petersburg police and the Pinellas County medical examiner confirmed Monday that Taylen Mosley's cause of death was drowning. Though the full autopsy has not been released, police are investigating his death as a homicide. Mosley's father, Thomas, was charged with first-degree murder in connection to his death and that of his mother, who was found dead with over 100 stab wounds the day the toddler was reported missing.
Police say Thomas threw him in a lake 10 miles from his mother's home. The boy's family launched a fundraiser for the funeral service earlier this month and shared a statement with the community thanking them for their help.
"We want to start by thanking everyone in the St.Petersburg area, Florida, and across the United States for praying and sending positive thoughts our way in the past few days as we grieved Pashun and searched for Taylen. We especially send our gratitude to St. Petersburg police and all law enforcement working day and night in the search for Taylen and the concerned citizens who shared helpful information," read a letter from relatives Lakita Denson and Theo Brickhouse Sails.
What Happened When Taylen Went Missing?
What began as a simple birthday celebration ended in a heinous crime against humanity.

Pashun Jeffrey, 20, invited family over to celebrate Thomas Mosley's 21st birthday, per CNN. The following day, Jeffrey's family tried to call her but received no response. Meanwhile, that night, Mosley admitted himself to the hospital for a variety of lacerations to his hands and arms. Police say they were consistent with knife injuries.
The very next day, Jeffrey's family went to the apartment and her two-year-old son, Taylen, who was last seen with her, was also nowhere to be found. Police issued an Amber Alert following the discovery of her death asking for help locating him.
Police say Mosley was arrested in Jeffrey's killing after finding his bloody fingerprints and shoe prints inside the house. Authorities then used dive teams and drones to search the area around the apartment and the nearby lake for the boy. Finally, they found him, but under disturbing and unexpected circumstances.
Read more from Fox 35 Orlando:
"We are sorry it has had to end this way," Holloway said during a Friday night news conference.

Officers searching for the toddler at a lake a few miles from the apartment complex noticed an alligator "with an object in its mouth" that they quickly realized was a child's body, Holloway said. They fired shots at the reptile, which dropped the body.

"We were able to retrieve Taylen's body intact," the chief said. The alligator was euthanized.

Police have not revealed how Taylen Mosley was killed or whether the alligator played any role in that.
Mosley refused to speak to detectives but confessed to throwing two-year-old his son into the lake where the alligator found him. He's facing two counts of first-degree murder.
A spokesperson for the Sixth Judicial Circuit Public Defender told CNN they are taking these allegations seriously and gathering information about their client's "mental state."