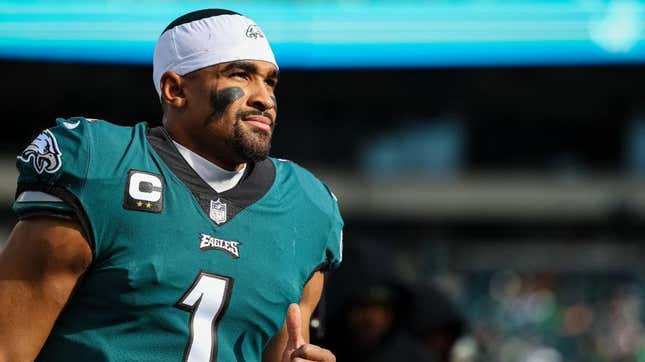 The past year for Philadelphia Eagles quarterback Jalen Hurts has been a 180-degree turn. I know some may forget, but the end of his 2021 NFL season was not good. The Eagles snuck into the playoffs with a 9-8 record and got annihilated by the Tampa Bay Buccaneers in their Wild Card matchup.
The 2023 Super Bowl's Top 5 Black Moments: From Historic Firsts To Rihanna's Baby Bump
Going into the 2022 season, there were real questions about if Hurts could become the franchise QB for the Eagles. When do the Eagles give up on him? Has he proven to be a good passer? Should they draft another QB? There was real doubt coming from football talking heads and Eagles fans. Then the 2022 NFL season happened. Hurts was second in MVP voting, his team tied for the best record in the league and cruised their way to the Super Bowl, then was a penalty away from having a chance to win it.
Two months after leading his team to the Super Bowl, he was given a history-making bag by the Eagles, a five-year extension worth $255 million, with $179.3 million guaranteed. This extension made him the highest-paid player in league history, for a moment. The ails from the prior season had been forgotten and Hurts is now officially a superstar in the sports world. Something many would not have expected after he was benched in the College Football National Championship game in 2018.
His amazing rise to superstardom took another awesome step over the weekend when he earned a Master's degree in Human Relations from the University of Oklahoma.
In an Instagram post he made Saturday that shows himself in his cap and gown, he wrote, "I Know Momma Proud Of This One."

Not only is Hurts one of the best gunslingers in the NFL, but he's also pretty intelligent too. This isn't surprising considering he's carried himself was such class and dignity since he was a freshman at the University of Alabama.
He's humble, smart, athletic and a winner. What can't he do?