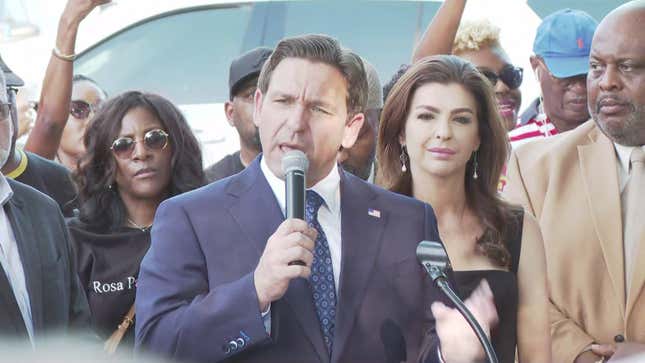 At a vigil Sunday for the people killed by a mass shooter in Jacksonville, Fla., Gov. Ron DeSantis was loudly booed and heckled by attendees. A day prior, a white gunman targeted and shot three Black people to death at a Dollar General store before fatally turning the gun—an AR-15 he adorned with swastikas—on himself.
Small Town Horror: The Story Of A Black Teen Attacked By A "Missile"
"What he did is totally unacceptable in the state of Florida," DeSantis said. "We are not going to let people be targeted based on their race."
The governor—who we often find much to disagree with—wasn't wrong there. Racially-motivated mass killings should be unacceptable in Florida or anywhere else. And as the state's top elected official, the buck absolutely stops with him.
But DeSantis left out one critical detail as he did his civic duty to condemn the violence: the fact that he has to own some responsibility for creating the climate in which it happened. No, he didn't put the gun in the murderer's hands, etch the swastikas or pull the trigger. He didn't write the manifesto. But DeSantis, who is currently seeking the GOP nomination for president, has used his power to bolster racial division through policies that demean and diminish Black people, Hispanic immigrants and member of the LGBTQIA community.
Whether it was the "Stop WOKE Act" which severely limits how companies and school can discuss race, to gutting diversity programs at colleges, DeSantis has used the levers of power to specifically demonize Black people—and our history—in attempt to appease a bigoted political party and make white people feel better. In a move earlier this year that even shocked Republicans, the Florida Board of Education approved a new set of African-American Studies teaching standards that claimed Black people personally benefited from slavery.

DeSantis' Republican Party has for decades purported to care about law and order, but the Florida gov saw fit to suspend two elected prosecutors—including the only Black woman in that role in the state—when how they did their job wasn't politically convenient for him.
In addition to his crusade against critical race theory, DeSantis also made it easier for the Jacksonville shooter to purchase his weapon by loosening gun laws in Florida during his tenure. For the governor to feign empathy and call the perpetrator a "major league scumbag" Sunday night is a joke; DeSantis intentionally cultivated the grounds for this atrocious act of violence to occur. In May, the NAACP issued a formal travel advisory for the state of Florida explaining it wasn't safe for Black people.
"Florida is openly hostile toward African Americans, people of color and LGBTQ+ individuals," the travel notice stated. "Before traveling to Florida, please understand that the state of Florida devalues and marginalizes the contributions of, and the challenges faced by African Americans and other communities of color." Shortly after the advisory was released, a spokesperson for DeSantis wrote it off as "nothing more than a stunt." Now we know who was right.
However, what happened on Saturday proved that politicians who normalize white supremacist rhetoric used by domestic terrorists play a crucial role in the rise of hate crimes. DeSantis and others like him who prop up white nationalism have blood on their hands—and Black folks won't ever forget it.