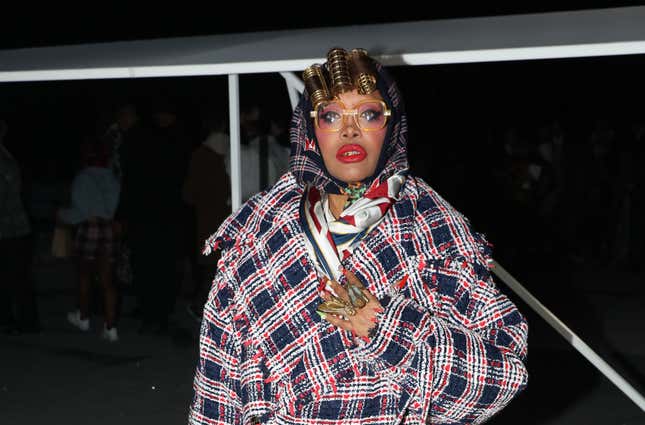 Erykah Badu is magic. That's the only explanation for how she's able to make the universe bend to her will. Her powers were once again on display during her recent concert in Atlanta. While performing at the State Farm Arena, she confessed her feelings for "fine" celebrity crush, John Boyega. She told the crowd to "tell that nigga I said hi." The On & On artist figured that with an arena full of fans, her message would find its way back to the Star Wars actor.
Jamie Foxx In They Cloned Tyrone Is Our TV Pick of the Week
"It's a lot of people in the audience—that's why I wanted to say that," she said in a video posted to Netflix's Strong Black Leads Instagram. "Cause there's enough of y'all for one of y'all to get the message to the man, right?"
The Grammy winner went on to discuss Boyega's age, noting that the 31-year-old has the "special" kind of stamina she appreciates in a man.
"How old is he? He under 30? Hell yeah!" she continued. "That's what I'm talking about. Nuts still tough. You know what I'm sayin'? That's what I be looking for."
Shortly after all this went down, the actor surprised the "Next Lifetime" singer on stage while she was performing her classic hit, "Tyrone." She laughed and hugged him, proclaiming, "It's John Boyega!" Badu recently released a new version of the song called, "Who Cloned Tyrone" for the actor's Netflix sci-fi movie They Cloned Tyrone. She then invited him to hang out with her on her bus after the show.
"I'ma go back to the bus later on. After the show, of course. I gotta finish this," she said. As he left the stage, she gave the actor very specific instructions, saying, "Make sure you roll one up for me. Thank you!"
Boyega better make sure he knows who he's dealing with. Back in February, the singer addressed the well-known urban legend that any man who looks her in the eye falls in love with her, telling Tamron Hall that it doesn't just apply to men, "Women too," she said. "And children and animals. Any living, breathing thing."
Her former beau Common confirmed Badu's magical influence, saying, "Yeah, the 'Badu Box' is real. It can take you to another universe. But seriously, that's when you meet somebody that's real special and you're like, 'Man, this woman got…she got something else, man.' It ain't just the sex. It ain't just the looks. It's like something that's kind of like spirit-wise, where you're like, 'This woman got something else.'"
John Boyega may be familiar with the Force, but we all know it's no match for Erykah Badu.