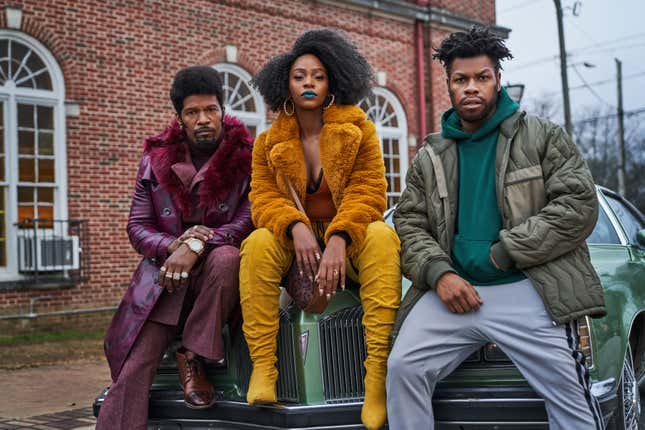 What do get when you combine a pimp, a whore, a drug dealer and a wildly disturbing covert government plot? You get Juel Taylor's They Cloned Tyrone, starring John Boyega, Teyonah Parris and Jamie Foxx in a romp through every barber shop conspiracy theorist's wildest dream. But if you think that's all there is to it, then boy do you have another thing coming.
Jamie Foxx In They Cloned Tyrone Is Our TV Pick of the Week
On the surface, the two-hour-long film feels like a flashback in time stylistically, with elements of the popular '70s-era Blaxploitation sprinkled throughout, hits like Alicia Myers' "I Wanna Thank You" and Cherrelle's "Saturday Love" blaring here and there, and vintage cars rolling down the street. But later, we see a Motorola Razor phone (if you know, you know) and then an iPhone, which begs the question: what time period exactly does this movie take place? That question, however proves to be less pertinent as the plot unfolds.
After Fontaine, our friendly Glen neighborhood dope dealer—played expertly by Boyega—is shot and killed after an altercation (which, spoiler alert happens in the first 15 minutes), he wakes up back in his home and back on the block to collect his money like nothing ever happened. However, after having witnessed his death first hand, fast-talking pimp/entrepreneur Slick Charles (Foxx) and his sassy, yet big-dream having "employee"/sex worker Yo-Yo (Parris) are befuddled as to how he survived and thus begin their search looking for answers.
The journey eventually takes them to an underground lab where someone—either the government or some other entity entirely—is running experiments on the citizens of Glen and cloning them in an attempt to control their behavior (and maintain some form of societal "order") via various methods like food, music, and haircare products. After finding this out, Fontaine, Yo-Yo and Slick Charles devise a plan to foil the scheme and alert their neighborhood of the evil bustling in their own backyard.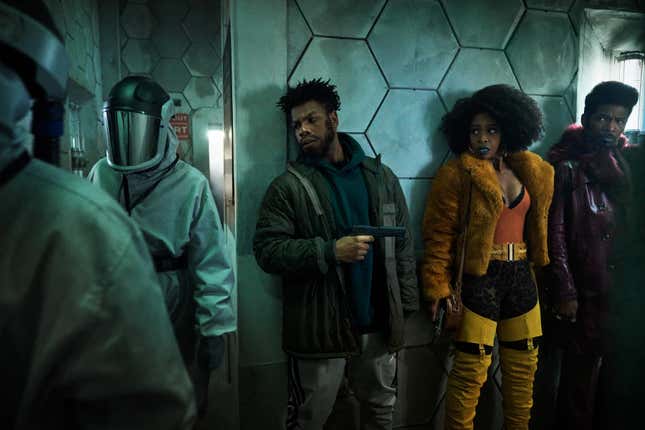 While this mini-plot summary and star-power alone should be enough to have you seated and sat for this pulpy film, it's really the subplots that should get your brain turning. Chief among them is the film's exploration of some Black folks' adherence to conspiracy theories, no matter how outlandish.

I mean, how many of our grandparents, friends, uncles and play cousins still love to tell us how to this day how much "the man" is trying to take us (Black people as a collective) down, the moon landing was fake, the Earth is flat, Dr. Sebi cured AIDS and cancer, 5G caused COVID-19, Jamie Foxx is now a clone and that Tupac is still alive and hiding out in Cuba? While I do slightly indulge in talks of the former, because systemic racism does indeed exist and has infiltrated almost every major area in American society, and laugh at the latter because, well, that one is just funny—other conspiracies like the ones mentioned in between, while false, can also be outright reckless if given enough steam.

And that seems to be the hook that Taylor hangs much of the movie on: Where is the line between hairbrained and plausible conspiracy theories in a country where government and industry have, in fact, systemically abused Black people? Is it really outlandish to be, say, an anti-vaxxer in a country that gave us the Tuskegee Syphilis Trials? What's more dangerous: latching onto the spread of misinformation or trusting a system that's given us so many reasons to distrust?
Another thing that the film touches on subtly is the notion that we all ought to be vary wary about the types of things we let in our bodies. Whether it be dangerous drugs that lead to premature deaths, hair products that may or may not be linked to cancer, or fried/fatty foods and sugary drinks that can cause a whole host of health products if not eaten/drunken in moderation, or even "sermons" that espouse giving money exorbitantly with no thought for your bills and day-to-day living—the fact is, we all do ourselves a disservice by blindly ingesting and partaking in things without giving it the courtesy of a second look.
Neither concept is exclusive to Black people, but the film does well at playing into the ludicrousness of it all in a way that's very familiar and specific to the culture but still universal in its warning and message. Though I can't say the big reveal at the end felt as satisfying as I hoped and left me with more questions than answers, I'd be lying if I said the ride to get there wasn't enjoyable AF and well worth it.
They Cloned Tyrone is available to stream now on Netflix.