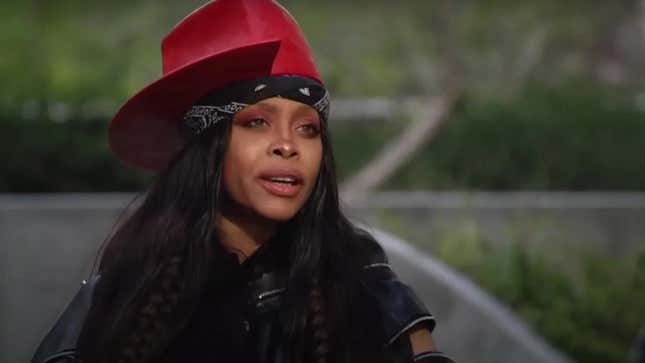 In her now viral MSNBC interview with host Ari Melber, the legendary Erykah Badu addressed how conservatives have twisted the term "woke" into something derogatory and weaponized it against people of color. Badu also discussed how she popularized the phrase with her 2008 song "Master Teacher" as well as on social media.
How Erykah Badu's "Tyrone" Became An Anthem For Black Women
"There's a song on [New Amerykah Part One] called 'Master Teacher,' and in that song... the chorus is 'I stay woke,' so 'stay woke' was introduced to the world by this album," the 52-year-old star explained. "And I tweeted it about this group that was detained, Pussy Riot... In my tweet, I said 'Free Pussy Riot...' After that, 'woke' took off."
Though it started off as a phrase meaning being aware of political, social, economic and racial injustice, the right has since contorted into having a negative connotation. Conservative leaders, like former President Donald Trump and Florida Governor Ron DeSantis, have encouraged their followers to steer clear of anyone who calls themselves "woke."
Ultimately, this strategy is popular in working to uphold white supremacy and the systems that keep marginalized communities oppressed. Badu insisted that they used the word as a dog whistle for something else. "I think they mean 'Black,'" Badu stated. "It's just another way to say 'thug' or something else, right?"
She continued: "It is what it is. It doesn't belong to us anymore, and once something goes out into the world, it takes a life of its own. It has an energy of its own." Badu doubled down on "woke" meaning being self-aware but said it was more personal than that.
"It means being aware, being in alignment with nature," she said. "It's not only in the political arena. That means with your health, that means in your relationships, that means in your home, that means in your car, that means in your sleep."
As Bakari Sellers noted for The Root: "It's funny to watch people like Marjorie Taylor Greene and other white people who do not understand co-opt this word into something negative....At the end of the day, they can have it." Badu and Sellers—as well as Black folks across the nation—understand exactly what conservatives are doing with the word "woke." However, it won't ever distract us from the amount of danger they are currently placing the country in.