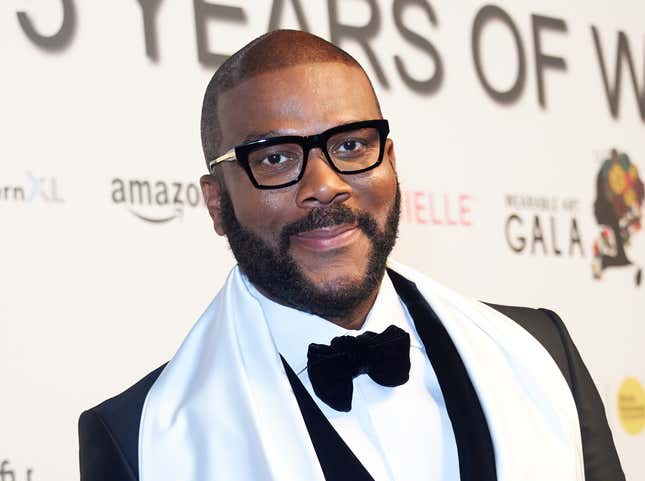 As the sale of BET Media Group turns into the latest season of Succession, one of the interested parties is very publicly staking his claim. In an interview with Entertainment Tonight, filmmaker Tyler Perry made it abundantly clear that he plans to acquire the company that includes BET and VH-1.

Nelson Estevez of Tyler Perry's The Oval Plays That's So Random
"Rumor? No, it's not a rumor," Perry said. "I've been there for four years now and have tremendous success. I wasn't expecting this to happen, so, yes—if that is possible—I'm very, very interested in taking as much of it as I can."
In addition to Perry, media moguls Byron Allen and Sean "Diddy" Combs have also revealed their interest in purchasing BET. Though he sounds incredibly confident in his chances, the Madea actor is also excited to see Black entrepreneurs at the negotiating table.
"I've read about Byron Allen and Puffy and everybody wanting to bid and so on and so forth, and I think it's really great," he said. "This is what I love about it. When [BET co-founder] Bob Johnson sold it in 2000…there wasn't one Black person who could buy it. So now, to see all of these Black people, men and women, who are able to be in a position to buy it? Man, that makes me feel really, really excited."
Paramount Global currently owns the majority stake in BET Media Group. While it has raised the network's profile, it also has eliminated many of the things that make it special. Nowadays, BET is an endless stream of sitcom reruns, the same movies and whatever project Perry is working on. Unlike the days of Video Soul, 106 & Park, Bobby Jones Gospel, BET News and even College Hill, the current programming slate doesn't have a distinct voice. It's basically the same thing Viacom airs on MTV and CMT, just with Black people. Of course, as a minority owner, Perry has a different view of the situation.
"I think there was sadness when Bob sold it, and I think there'll be happiness when it's Black-owned again—even though Shari [Redstone] and Viacom and Paramount, they've done a phenomenal job with it," he said. "They didn't let it fall by the wayside, they didn't let it go into dust, they nurtured it and took care of it. And to see Shari at this position saying, 'I think it should be returned to a Black owner?' I figured, 'OK. See, that's my kind of person.'"
Though he didn't give a timeline on how a possible deal is proceeding, Perry did confirm that talks are happening.
"We can very much say that there are conversations. I'm beyond interested," he said.
While Tyler Perry seems like the most logical choice, it will be very interesting to see who ultimately acquires the majority stake in BET Media Group. And we'll be even more fascinated to see what direction they take both networks in, because VH-1 could also use a refresh to its programming model.