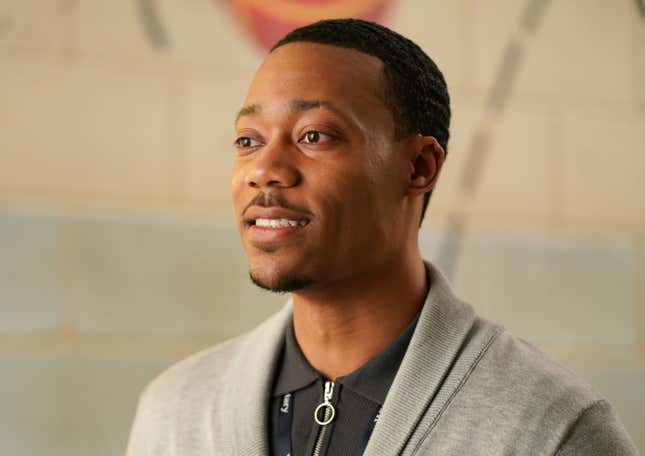 If you love Abbott Elementary's Gregory Eddie and wish you had a supportive teacher like him when you were in school, there's a reason for that. While Tyler James Williams based the character on the men who've impacted his life, Gregory is also the teacher he never got to have. In the past, the actor admitted that he never had the opportunity to have a Black teacher.

Abbott Elementary's Emmy Award-Winning Sheryl Lee Ralph Plays That's So Random
"I had never encountered a Black male educator in any of my tenure in my educational experience, and that was incredibly unfortunate. And I thought about what the difference would be in my life if that had been the case," he told Complex. "But I definitely model Gregory off of all of the Black men in my life. He's my father, he's my grandfather, he's my uncle, he's my brothers. There's so many aspects of him, because I come from a family of really dedicated Black men who were very involved in the raising of the next generation of not just only their kids, but the kids in their communities. That's something that gets lost from our narrative a lot."
Williams' commitment to the school system isn't just on screen, as the 30-year-old is partnering with the W.K. Kellogg Foundation on an initiative highlighting the importance of early childhood education. At the 2023 ESSENCE Festival of Culture, he spoke with The Root about how the recent Supreme Court decision on affirmative action could jumpstart a discussion about the inequities of the elementary level education system.
"I think the ruling that was passed was incredibly unfortunate. But I think one of the things that I've seen is missing from the conversation is [that] it will create and continue to exacerbate inequity on the collegiate level—but we already have inequity at the elementary level," Williams told The Root. "And we have for some time. As unfortunate as that is, we can start this advocacy at age zero."
"And that's what I love about what the W.K. Kellogg Foundation is doing because if we start young, then hopefully we can build a generation of educated, informed community members who can affect change in the very ways this initiative is talking about," he continued. "So we don't have this misinformation that's flying around about affirmative action. We have people who can look at their politicians and their policymakers with a critical view. But that education doesn't start once you get a voting age. That education starts at the very beginning."
Abbott Elementary Season 2 has wrapped and the ongoing WGA writers' strike leaves production on Season 3 in limbo. However, if you need to catch up on the first two seasons, the comedy is currently streaming on Hulu.