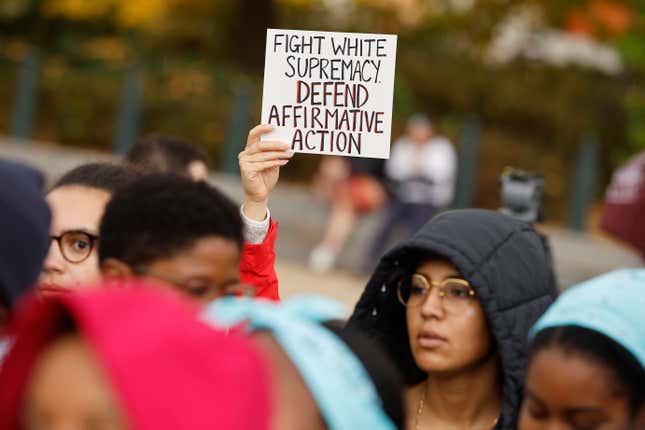 The Supreme Court voted to massively curtail affirmative action in higher education. The justices ruled that Harvard University and the University of North Carolina's race-consious admissions policy violated the Equal Protection Clause of the Constitution.
Afraid Of Losing Political Power, White People Weaponize "Identity Politics"
The court split along ideological lines with a 6-3 decision in the UNC case and a 6-2 decision in the Harvard case, since Justice Ketanji Brown Jackson recused herself. The ruling is expected to curb admissions of students of color at top universities, most of which use race as a factor among many others when determining admissions. Colleges will now have to scramble to ensure that they can still foster diversity, without being able to take an applicant's race into account during the admissions process.
The ruling didn't come as a complete shock. Court watchers and legal experts have been predicting that the Supreme Court would end affirmative action in education for years now.
Last June, The Root spoke with legal experts about their predictions for the case. Lisa A. Crooms-Robinson, a constitutional law professor at Howard University School of Law, said she suspected this outcome.
"The higher ed cases on the docket for the next time," said Crooms-Robinson. "Will be, I would suspect the end of race based affirmative action."
The majority of Americans appear to support race-consious admissions polices in higher education. But the policy has been under attack for years. In 2013, Edward Blum, who is also behind the Harvard and University of North Carolina cases, challenged affirmative action in Fisher v. University of Texas. His client, Abigail Fisher, claimed that she was discriminated against by the university because she was white. However, over the course of the case it was revealed that Fisher's grades and SAT scores simply weren't exceptional enough to win her admission into the university regardless of her race. At the time, the Supreme Court more or less sided with protecting affirmative action.
Ten years later, the almost unrecognizable bench, voted to gut affirmative action. Experts have warned that we could see a noticeable drop in the number of Black and Latino students admitted to highly selective schools.