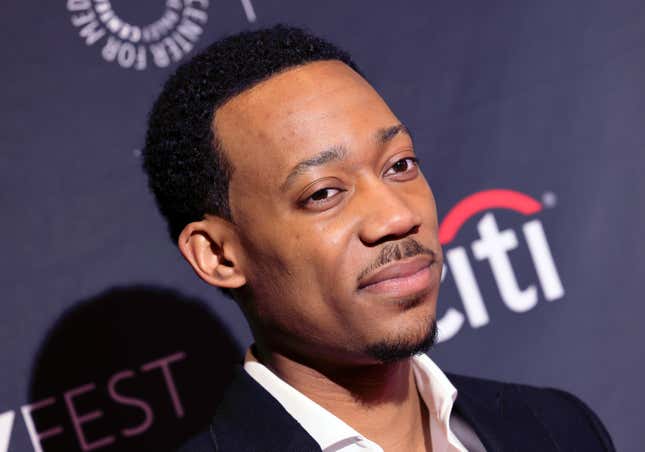 Emmy-nominated actor Tyler James Williams is speaking out concerning speculation about his sexuality and teaching us all a big lesson on how to combat homophobia and cultivate safe spaces for those in the LGBTQ+ community.
Another Anti-Trans Policy Forced Virginia Students to Walk Out in Droves
In two since-expired posts to his Instagram story over the weekend, the Abbott Elementary actor addressed online rumors that he may be gay, warning about the dangers of sexuality speculation and those who seek to essentially dissect behaviors of a potentially closeted person in an attempt to "catch them" before they're ready to live in their truth publicly.
"Usually I wouldn't address stuff like this but I feel like it as a conversation is bigger than me. I'm not gay; but I think the culture of trying to "find" some kind of hidden trait or behavior that a closeted person 'let slip' is very dangerous," he began. "Overanalyzing someones behavior in an attempt to 'catch' them directly contributes to the anxiety a lot of queer and queer questioning people feel when they fear living in their truth. It makes the most pedestrian of conversations and interactions in spaces feel less safe for our gay brothers and sisters and those who may be questioning."

He continued, "It also reinforces an archetype many straight men have to live under that is often times unrealistic, less free, and limits individual expression. I've been very clear about the intentionality I try to put into using my platform to push back against those archetypes every chance I get.
"Being straight doesn't look one way. Being gay doesn't look one way. And what may seem like harmless fun and conversation may actually be sending a dangerous message. Happy Pride to all of my queer and questioning brothers, sisters, and individuals. I pray that you feel seen in ways that make you feel safe in the celebration that is this month."
"As an ally, I continue to be committed to assisting in that where I can and helping to cultivate a future where we are all accepted and given permission to be ourselves," he concluded.
As Tyler's post began to circulate on Twitter, with many praising him for his articulation, his brother Tyrel hopped online to heap further praise on his sibling and shed light on the way he handled both his and their younger brother's coming out in the past.
"He completely deconstructed his views on masculinity and made sure to build spaces for us to be comfortable and seen until we were ready to tell our friends/family," Tyrel wrote in part, later adding: "We all rebuilt our definition of manhood together, brick-by-brick. And it was not easy work. But we weren't doing it alone. THAT is gender-affirming care. Someone allowing you space to, not only express, but discover yourself. Who supports that discovery without making it about themself or the ideologies of people who never mattered in the first place."