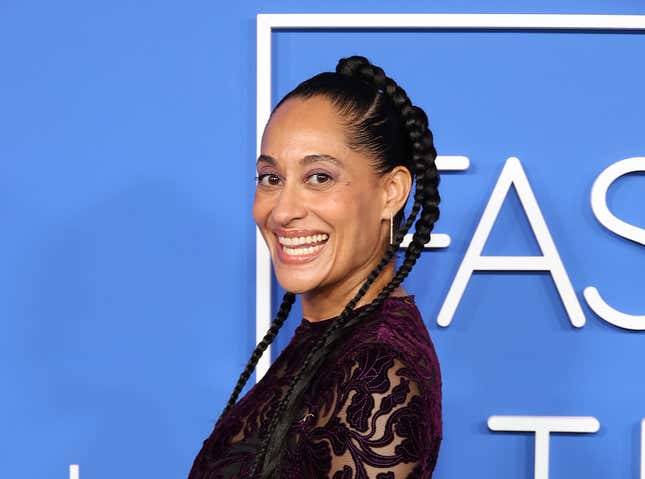 Everyone handles aging differently. Some people ignore it, while others do everything they can to keep wrinkles and gray hair at bay. Black-ish star Tracee Ellis Ross is handling it the way she does everything else: hilariously. In a video posted to Instagram on Monday, the actress showed off how she uses her "torture tools" to take care of her body.
A Girlfriends Reunion? Persia White On Bringing the Girls Back Together | Securing the Bag: Part 4
"Y'all think this shit is a game?!? thank you @olfaperbalparis for these torture tools that seem to lift and smooth this 50 year old kit," the Girlfriends star's caption reads. While wearing a face mask she asks "50 what? 50 what? Years old."
She then proceeds to use the "rolling bell" on her leg. Olfa Perbal Paris describes it as a "2-in-1 tool to absorb and smooth fatty deposits." Silly me, all this time I've been sitting around not smoothing out my fat. Seriously, men have no idea the kind of nonsense expectations women are inundated with.
Tracee then moves to "the pimple," which "breaks up the fatty deposits after having absorbed them."
"This is the one I like on my booty," she says as she stands up to demonstrate how to use it. "I want to lift it up but I can't do that right now because I don't have undies on."
I love Tracee and think she's amazing, but I'm not rushing out to spend around $43 to smooth out or break up my fatty deposits.
Clearly the "torture" is working as Ross looks flawless at 50. She recently posted several stunning photos of herself on vacation, living her best unbothered life. She didn't even let the trolls get to her when they complained about one of her sexy photos. The fact that she's having so much fun with all her beauty products and photos also tells me that she's not taking herself too seriously, which keeps her young at heart.