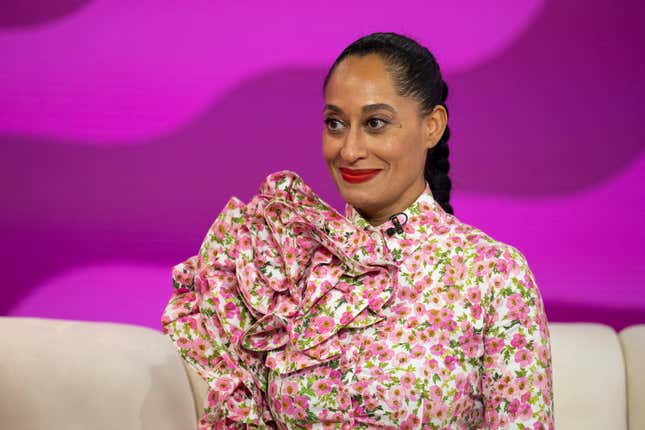 Tracee Ellis Ross is a successful actress with a thriving beauty business who sashayed into 50 last year looking nothing less than fabulous, if I do say so myself.

Real Housewives' Gizelle Bryant & Robyn Dixon Talk Success Of Reasonably Shady
Yet, like most women of a certain age without children, she still has to deal with questions about why she hasn't added mother to her already impressive list of titles. In a recent appearance on Glennon Doyle's We Can Do Hard Things podcast, Ross got all the way real and opened up about having no regrets about not having children of her own.
"My ability to have a child is leaving me, but, like, I don't agree that that's what 'fertile' means. I don't agree that that's what 'woman' means," she said. And she's right. In addition to "being capable of bearing offspring," fertile also means "being abundantly productive," which can apply to a person's imagination or creativity, something Ross is oozing with. Besides, isn't Nick Cannon doing enough to populate the Earth on his own?
Ross admits that she does have moments of sadness. But she says she does her best not to hold on to those feelings and has instead accepted where she is.
"The heartbreak does come up, and I get to hold that gently and lovingly and then remind myself, like, 'I woke up every morning of my life and I've tried to do my best, so I must be where I'm supposed to be,'" she said.
And in a beautifully vulnerable moment, the actress read from a personal journal entry about her feelings as she enters perimenopause.
"I can feel my body's ability to make a child draining out of me. Sometimes I find it hilarious, as if there's a fire sale going on in my uterus and someone's in there screaming, 'All things must go,'" she read. "Is it my fertility that is leaving me? Is it my womanhood? Or is it really neither? But I have to fight to hold my truth, because I have been programmed so successfully by the water we all swim in, by the water we all are served, and I feel fertile with creativity, full of power, more and more a woman than I've ever been. And yet that power that I was told I must use was not used."
I'm not sure why in 2023, women still have to explain why they don't have children. But hopefully Ross' words will inspire other women who have felt the pressure to reproduce and make those nosey aunties and grandmas think twice before they ask you when you're gonna start having babies.