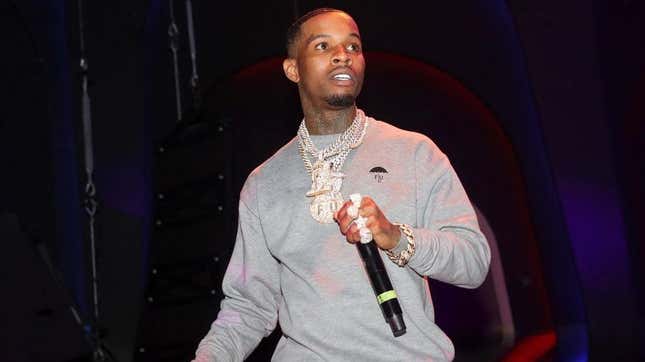 Although Tory Lanez was convicted weeks ago of all charges relating to the shooting of Megan Thee Stallion, he's already doing all he can to get a new trial.
Chuck D's Fight The Power: How Hip Hop Changed The World Is Our TV Pick
On Tuesday, as Lanez made his first appearance in court following his guilty verdict, he told a Los Angeles judge that he wants lawyers David Kenner and Matthew Barhoma to replace both his attorney during the trial, George Msdesyan, and Shawn Holley, the Canadian rapper's original defense attorney who missed the trial due to a scheduling conflict, according to Rolling Stone.
Judge Herriford not only approved Lanez's lawyer change, but he also agreed to push back the LUV singer's sentencing nearly a month from Jan. 27 to Feb. 28, so he can give his new attorney time to review trial transcripts and file a motion for a new trial.
Furthermore, Kenner asked if Judge Herriford could end the protective order against Lanez, which prohibits him from contacting or harassing Megan or sharing any discovery in the case. In April, he was arrested for violating said order. Per the report from Rolling Stone, Judge Herriford said Kenner could ask again at Lanez's sentencing hearing.
Kenner was confirmed as the "Say It" singer's new lawyer on Monday, a day before Lanez was scheduled to appear in court for a "substitution of attorney." Famously, Kenner has represented several notable hip-hop figures including Suge Knight, 2pac and Snoop Dogg.
Nearly 27 years ago, Kenner represented Snoop in his 1996 murder trial which ended in an acquittal. He most recently represented Knight during his civil trial last year over allegations that he negligently killed a victim in a hit-and-run on the set of the 2015 film Straight Outta Compton.
Lanaez currently faces a maximum sentence of 22 years and eight months in prison.