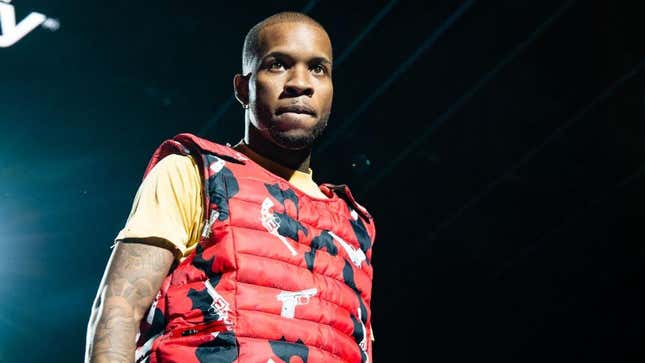 Updated as of 1/9/2023 at 2:20 p.m. ET

Weeks after Tory Lanez was convicted of all charges related to the shooting of Megan Thee Stallion, including assault with a semiautomatic firearm, possession of a concealed, unregistered firearm and discharging a firearm with gross negligence, the Canadian rapper fired his legal team that has been with him throughout the trial.
Will The Real Black Journalists Please Stand Up
Now, it's been confirmed that Lanez has hired attorney David Kenner ahead of his appearance in court tomorrow. Throughout his time as a lawyer, Kenner has represented many notable figures in the hip-hop world including Suge Knight, Snoop Dogg and 2pac.
Previously, Lanez was being represented by George Mgdesyan, who was in court when the rapper was convicted on all charges related to the shooting.
Nancy Dillon of Rolling Stone reported that Lanez's appearance in court on Jan. 10, will be for "substitution of attorney." Mgdesyan, Lanez's previous attorney said, "I don't do appeals, so we had to get somebody on board to handle the appeal."
In the days following Lanez's conviction, many called to appeal Lanez's guilty verdict, most notably his family, claiming in a petition that the trial was a "miscarriage of justice" and that the prosecution "did not prove that Lanez undoubtedly committed any crime."

Even though Lanez has changed Lawyers, I don't know if it will lead to a change in his legal fate. In October 2018, Kenner's former client Suge Knight was sentenced to 28 years in prison for a hit-and-run on the set of the 2015 film Straight Outta Compton. Kenner represented Knight during his civil trial last year over allegations that he negligently killed the victim in the hit-and-run, but he did not represent him when he was convicted or sentenced in the criminal trial, according to Rolling Stone.
Lanez's sentencing hearing is scheduled for January 27, according to the Superior Court of California. He currently faces a maximum sentence of 22 years and eight months in prison, not sure a new lawyer will change that.