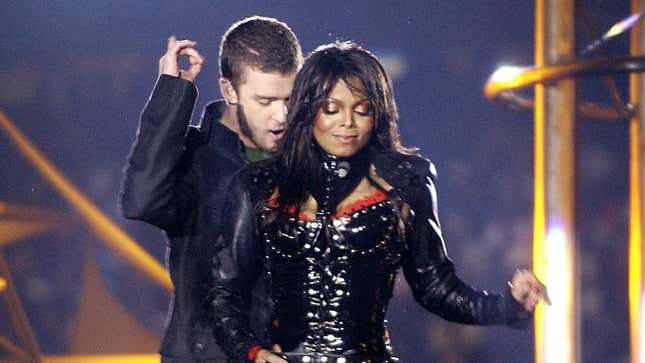 In case you were wondering what Tom Brady thought about Janet Jackson's Super Bowl wardrobe malfunction at the hands of Justin Timberlake back in 2004, you're in luck. For some reason, the athlete decided to address the half time show controversy on his "Let's Go!" podcast—almost 20 years after it happened.
Alongside Jim Gray and Larry Fitzgerald, Brady remarked that it was "probably a good thing for the NFL." To be fair, he did lead the New England Patriots to a memorable win over the Carolina Panthers that year. However, the country couldn't stop talking about Timberlake exposing Jackson's breast while performing a rendition of "Rock Your Body" during the halftime show.
"I didn't see much. I'd much rather not see it when I'm playing," Brady remarked about Super Bowl halftime shows. "Even I remember when we beat Carolina…We came off the field and that was when we had the wardrobe malfunction with Justin Timberlake and Janet Jackson.
"[The media was] asking me about that. I couldn't even understand what they were telling me about. They said, 'Did you see the halftime show?' and I said, 'I didn't see anything.' I was thinking about the game."
He didn't stop there.
"It took a while for us to figure out exactly what had gone on. I think in the end, it was probably a good thing for the NFL because everyone got to talk about it, and it was just more publicity and more publicity for halftime shows. Is any publicity bad publicity? That's what they say, so, who knows?"
Brady then talked about the more pertinent topic of Rihanna's halftime performance on February 12, in which she revealed that she is expecting baby number two with partner A$AP Rocky.
"She's great. She's a great performer. She blows everyone away all the time. She's one of the unique performers. It's great to see people on that stage… that stage of the Super Bowl is reserved for special people. She did a great job," he stated.