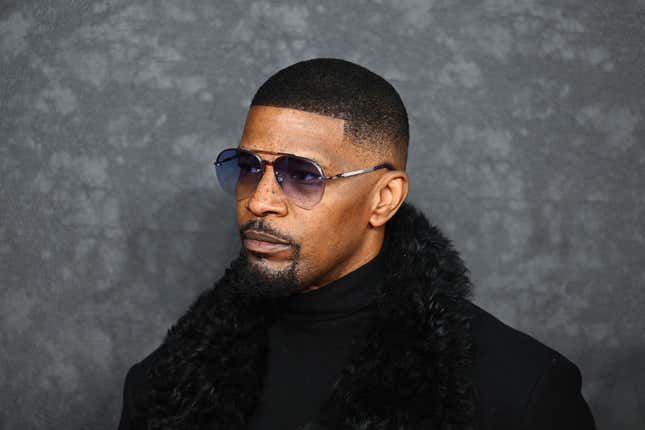 As Jamie Foxx continues to recover in a physical rehab center in Chicago following an undisclosed "medical complication," several celebrity friends of his are now speaking out.
Lizzo: Live in Concert Is Our TV Pick This Week
Over the weekend, Tiffany Haddish sent words of support for the Just Mercy star, telling Revolt: "What I can do is pray for him and let him know that there's nothing but love and peace over here for him. I just wish him all the success and healing and all the good stuff."
Speaking to Foxx's family's decision to keep his specific diagnosis private, Haddish later added she felt it was mostly due to the lack of wanting to deal with the press as he moves through his recovery.
Swarm star Dominique Fishback, who starred opposite Foxx in the 2020 Netflix film, Project Power and is gearing up to collaborate with him again for an upcoming special also recently told People that she's "very happy" to know that he's doing better. On paying attention the rumors of his declining health that circulated on social media, Fisback added: "I always just think that Jamie Foxx is superhuman. So it's almost like, if I didn't hear it from somebody close, I didn't really pay any attention to it."
That move would probably be beneficial to us all, especially seeing as how even though Foxx's family has chosen not to disclose the exact kind of "medical complication" he suffered, it's not stopping people from speculating.
The latest comes from Mike Tyson who, according to US Weekly, thinks Foxx suffered a stroke.
"He's not feeling well," Tyson said. "They said [it was] a stroke. I have no idea what happened to him."
Never mind the fact that he seems to contradict himself in those aforementioned sentences, it's worth noting once again that unless and until Foxx's loved ones decide to share what really happen, trying to act like we know what did doesn't hurt anyone. Instead, we should all continue to send well wishes his way so that he can get back to doing what he does best.