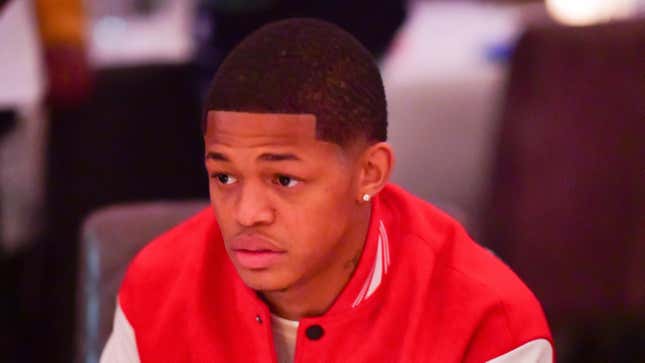 Over the weekend, viral footage of rapper YK Osiris forcing Sukihana to kiss him enraged the internet. The disturbing incident took place at an event thrown by The Crew League in Atlanta. In the video, Osiris can be seen massaging the the Love & Hip Hop: Miami star before grabbing her by her face and kissing her on the lips. Sukihana was visibly in shock and looked extremely uncomfortable.
Tackling A Black Maternal Health Crisis & Embracing Reproductive Justice | The Root Institute
Even more disconcerting, the men sitting beside her did nothing to help her. After his actions were labeled as sexual assault, YK Osiris issued a statement apologizing for what he did—but there is no justification for it. "I want to publicly offer my sincerest apology to Sukihana. In an attempt to be playful, I misread the moment and violated Sukihana's boundaries," he said.
"I understand the importance of consent and I am embarrassed by my behavior. I take full responsibility and have made multiple attempts to apologize. I have the utmost admiration for Sukihana and it was never my intention to disrespect her." Before she accepted his apology, the emcee deleted her Twitter account due to all of the public scrutiny.
"I drink to hide that I'm very sensitive. I feel things more than the average person. I stopped drinking yesterday but today I've been crying all day," Sukihana tweeted before deleting her account on Wednesday (June 14). "I asked God to strengthen me and use me to help others and order my steps in his word. I just want to go away for a while...I am hurt and I am scared to stand up for myself."
Sukihana said she has forgiven YK Osiris and chalked up his disgusting conduct to him being "young." However, age is not an excuse for a man forcing himself on a woman, nor is "misreading the moment." The fact of the matter is Sukihana has been outspoken about her sexuality for years, a trait that Black women are swiftly and routinely punished for.
The fact that YK Osiris felt emboldened to even put Sukihana in that situation to begin with—and that no men felt implored to stop him—speaks to the fact that Black women who embrace pleasure cannot be viewed as human unless it is in service to a man. Even though Sukihana can be vulgar in her music and salacious with her public persona, it doesn't give anyone the right to put their hands on her without consent.
YK Osiris isn't some naive person who attempted to be "playful" with Sukihana; He is a product of an environment that extracts whatever it wants from Black women. Hip hop has been guilty of this for decades; America has done it for centuries. This example of how Black women are treated is a stark one but reiterates how we as a society need to do better. Hopefully, Sukihana understands that she is a victim and doesn't feel pressured to forgive anyone.