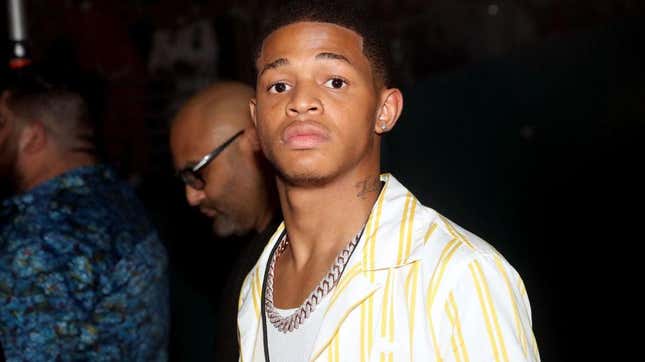 The brashness of men is getting worse—especially in hip-hop.
I'm sure you've all seen it by now, but if you haven't, let me tell you the problem with men who feel like they can touch women whenever they want and the people who defend them.
Amazon Prime Video's Harlem Star, Meagan Good, Plays That's So Random
On Tuesday, YK Osiris was seen on video sexually assaulting Love & Hip Hop: Miami star Sukihana by forcefully kissing her after a Crew League basketball tournament in Atlanta, Ga. As seen in the video, everyone around them was visibly shocked and Sukihana was uncomfortable with the act that she was forced to perform.
This represents a larger problem in hip-hop and our society. Just because Sukihana is extremely honest about what she likes to do in her sexual life does not give anyone a pass to try to take advantage of her, as Osiris attempted to do.
He later apologized, writing on Instagram, "I want to publicly offer my sincerest apology to Sukihana. In an attempt to be playful, I misread the moment and violated Sukiahan's boundaries. I understand the importance of consent and I am embarrassed by my behavior. I take full responsibility and have made multiple attempts to apologize. I have the most admiration for Sukihana and it was never my intention to disrespect."
Firstly, intent does not matter. I don't care if you "misread" the situation, or truly thought that she was into you, but it never matters what your intention was because it still hurts the victim all the same. The impact you made on the victim always matters more than your intent. This is why I don't want to hear anything about what YK Osiris "thought" was happening. What he actually did hurt someone.
Secondly, silence does not mean consent. Just because Sukihana did not visibly yell, "No!," or "Get off of me!" does not mean that she gave the 24-year-old artist the go-ahead to put his tongue down her throat.
The Problem With Meek Mill
Thankfully, there were not many people coming to the defense of YK Osiris—except for one person.
After the video was seen all over social media, Philadelphia rapper Meek Mill thought it would be a good idea to defend the Jacksonville rapper. In a tweet, he wrote: "Don't do this to him please he a good kid …. Just slap him and he gotta let you something … we don't need our young bulls tore down for mistakes in this hyper sexual era…. I support suki … hold that shit down on some street shit."
Kid? YK Osiris is a 24-year-old man. That's old enough to know when you should and should not forcefully try to kiss a woman without her permission.
In another tweet, Meek wrote, "Y'all drawing a big line between men and women nowadays on social …..it's getting bad in the black community! All this internet superficial shaming, judging gaslighting only hurt us people and it's alot of people who need strength especially young black men … he might gotta rumble suki brother anything but this same internet tear each other down stuff! Suki can do what she wants she feels violated… but let me mind my business."
What is he talking about? For once, most people on Twitter actually seem to be on the right side of this issue. People aren't "shaming" or "gaslighting" YK, they are holding him accountable for harming a woman!
In his final tweet addressing the situation, Meek wrote, "And protect suki! Osiris you a dh! Go back to church stop following the heathens!"
Nobody wants to hear that after you just tried to defend Osiris. Now is not the time to try and play both sides. One person is a victim, the other is not, it's pretty simple.
This just reminds me that not everyone deserves to have an opinion on certain issues and calls me back to what Dave Chapelle said years ago," Who gives a fuck what Ja Rule (Meek Mill) thinks at a time like this."