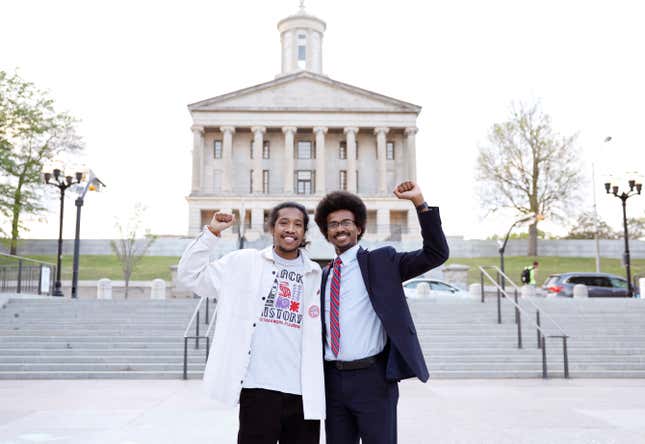 Tennesse State Representatives Justin Jones and Justin Pearson emerged victorious on Thursday night. The Nashville and Memphis Reps. won their special elections — giving a middle finger to the GOP-controlled state legislature.
Republican-Led Political Expulsions Like In Tennessee Will Be The New Norm
"Well, Mr. Speaker, the People have spoken," Jones wrote in a tweet. "The FIND OUT era of politics is just beginning. See you August 21st for a special session."
If those names sound familiar, it's for a good reason. In April, the Tennessee state legislature voted to oust the two lawmakers for joining a gun control protest. The decision effectively disenfranchised tens of thousands of voters in districts with large Black populations.
Both lawmakers were re-instated by local officials within weeks of their ousting, but they still had to run in a special election. Jones faced off against Republican Laura Nelson in Nashville. And Pearson faced off against Independent Jeff Johnston in Memphis.
The timing of their victory could not have been more poetic. Later this month, the state legislature is hosting a special session over potential gun control measures, the very issue that was a catalyst for their ousting in the first place.
After a fatal school shooting in Nashville that took the lives of three children and three adults, protesters entered the Capitol demanding gun control. Reps. Pearson, Jones, and fellow Democrat Rep. Gloria Johnson joined the protest calling for gun safety measures.
Republican lawmakers retaliated by calling for a vote to expel the group, known as the "Tennessee Three." However, in the end, Johnson, who is white, was spared. Johnson called out the omission as racist, adding later that she hears "racist statements all the time" in the State House.
Now that these two lawmakers have been restored, there's little doubt that they will continue fighting for the issues that both got them expelled and brought back by their constituents.