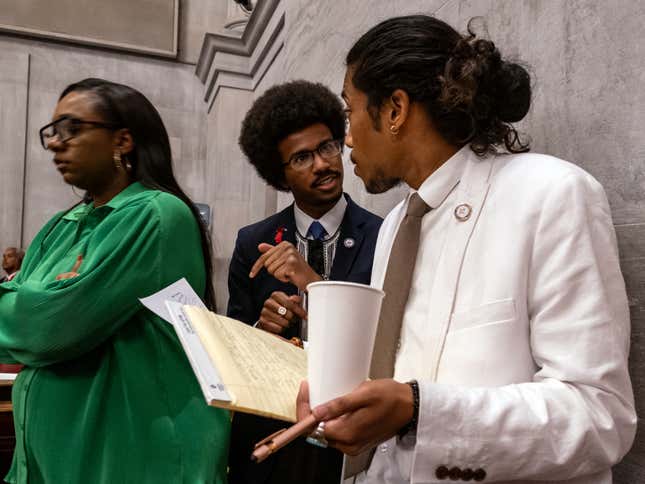 Two weeks ago, Republican State Representative Scotty Campbell joined the crusade to get rid of the "Tennessee Three" for joining a gun control protest on the House floor. But as is so often the case in politics, it turns out his hands were far from clean.
This Juneteenth We Revisit The Anderson .Paak BLM Track "Lockdown"
On Thursday, Rep. Campbell resigned after it was revealed that he had violated the legislature's workplace discrimination and harassment policy. The report itself doesn't go into details. But Local news station WTVF reported that Campbell was found guilty of "sexually harassing at least one legislative intern, likely two, by an ethics subcommittee acting in secret."
The local news outlet confronted Campbell about the allegations, and his responses weren't exactly reassuring. "I think conversations are consensual once that is verbally agreed to. If I choose to talk to any intern in the future, it will be recorded," Campbell told WTVF.
What's even more bizarre about this case is that the ethics committee found that Campbell violated the ethics policy on March 29th. Campbell voted to expel the two Black lawmakers, Reps. Justin Jones and Justin Pearson, and Rep. Gloria Johnson (who ultimately kept her seat), on April 6th. That means he knew that he had violated the state legislature discrimination and harassment policy when he cast a vote to expel the three members for violating House decorum. It also means, that it's likely House Speaker Cameron Sexton (who the letter was addressed to), saw the findings before he led the charge to oust Jones and Pearson. Sexton has not clarified when he first saw the letter.
As folks will probably remember, Jones and Pearson were expelled for joining a protest for gun safety in the wake of a horrific school shooting in Nashville. Although they were ultimately reinstated, the damage was done. Two Black lawmakers were silenced, and hundreds of thousands of voters were disenfranchised. What's worse, it helped set the stage for other Republican-led statehouses to do the same thing.
Campbell may be out of the state legislature, but it'll be hard to move on from this kind of blatant hypocrisy anytime soon.